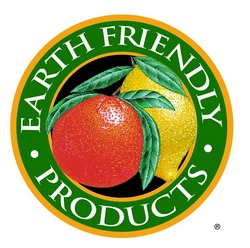 Garden Grove, CA (PRWEB) April 20, 2011
Earth Friendly Products (http://www.ecos.com), a leader in manufacturing award-winning, eco-friendly cleaning products, will reward all of its employees on Earth Day with bonus checks and the day off in recognition of Earth Day on Friday, April 22.
More than 200 employees will receive checks for up to three weeks pay at the company's five manufacturing facilities across the country.
"For our employees, every day is Earth Day," exclaimed Van Vlahakis, founder and CEO of Earth Friendly Products. "What better way is there for our company to honor this special day than to give recognition and express our gratitude to all of the people we work with who are dedicated to making the world safer and cleaner for everyone? Their skills and devotion to making Earth Friendly Products successful and to producing our 100% natural cleaning products has made us a leader in our field. This is one way for us to say thank you and to let them know how very much we appreciate each and every one of them."
Vlahakis said that the bonuses are designed to help employees financially and give an added boost to the local economies where the company's five plants are located in Addison, Ill., Garden Grove, Calif., Lacey, Wash., Norwood, N.J. and Opa Locka, Fla. By producing products in different regions of the country, carbon emissions are reduced significantly due to the shortened shipping routes between Earth Friendly Products manufacturing centers and stores who sell these top-selling products. In addition, Vlahakis noted that the company plans to rely entirely on solar power at all of its manufacturing facilities by the close of this year.
Sustainability is of vital importance to Earth Friendly Products. The company recycles and reuses resources constantly, and its commitment to reducing dependence on fossil fuels, coal and nuclear power is genuine.
"It is critical for us as a nation to do everything we can to encourage steps that will cut down on and do away with our dependence on sources of energy that pollute our environment and place everyone's health and welfare at risk," said Kelly Vlahakis-Hanks, Vice President of Earth Friendly Products. "In recognition of these national priorities, we recently announced our incentive program in which we will pay $2,000 to every Earth Friendly Products employee who purchases a hybrid, biofuel or electric car this year. Also, we will give 20% rebates on top of already-in-place state and federal tax incentives toward the purchase and installation of solar energy systems at employees' primary residences. For every $10,000 they spend on solar, we will give them $2,000."
Earth Friendly Products practices sustainability and uses alternative energy in manufacturing each of its award-winning green cleaning products. The company, which manufactures over 150 all-natural, toxin-free, green cleaning products, is committed to making a green lifestyle accessible for all families, through ongoing campaigns aimed at removing toxic chemicals from the home and partnerships with green organizations throughout the country, including Healthy Child Healthy World.
For more information about Earth Friendly Products please visit http://www.ecos.com.
About Earth Friendly Products
Earth Friendly Products is the leader in the development and production of environmentally friendly cleaning supplies for household and commercial use with over 150 products manufactured, distributed, and sold in the USA, Canada, Europe, South America, and Asia. All Earth Friendly Products are created with only replenishable and sustainable plant-based ingredients that are safe for people, pets, and the planet. The company proudly adheres to its strict "Freedom Code", a list of harmful and toxic ingredients that are not found in any of its products. Earth Friendly Products has proudly received the 2010 GEELA Award, 2009 Green PatriotTM Green 100TM Designation and the Champion level recognition from the US EPA through the Design for the Environment (DfE) Program's Safer Detergents Stewardship Initiative.
###