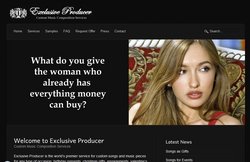 Love is one of the most powerful emotions while music is one of the most powerful forms of communication, and for the first time individuals around the world can express their feelings for their loved ones through music composed just for them
(PRWEB) April 21, 2011
The service available at http://www.exclusiveproducer.com, which is aimed particularly at high net worth individuals (HNWIs) and above, offers individuals the opportunity to get songs written and composed according to their request. All music styles are supported, ranging from classical opera pieces to pop, rock, as well as ballads and the songs, which can be recorded in most major languages including but not limited to English, Latin, Spanish, Portuguese, French, German, Italian, Russian, Polish, Mandarin (Chinese), Japanese, Korean, Thai, Hebrew, Hindi, Turkish, Persian, and Arabic.
Alex Johnson, Managing Director of Exclusive Producer, said "Love is one of the most powerful emotions while music is one of the most powerful forms of communication, and for the first time individuals around the world can express their feelings to their loved ones through music composed just for them and according to their wishes."
The clients can themselves decide on their level of involvement in the creative process. Typically the client provides Exclusive Producer with details on the recipient of the song, as well as other requests such as musical style, certain lyric themes, language and so on. Exclusive Producer will then provide the client with an all-inclusive price estimate and once this has been accepted the production will start. Most songs will be finished and ready for delivery as a digital audio file, on a CD, or pre-loaded on a Portable Media Player, within 1-2 weeks from order.
"What do you give someone who already owns all things money can buy?" asked Alex Johnson rhetorically. "We give our clients the opportunity to give their loved ones a gift and experience which is which both fun and personal, while at the same time exclusive and life long. It is something which will make a bigger impression than another necklace or a handbag."
For those clients who wish to test their wings and see whether their song has what it takes to be an international hit, Exclusive Producer can through an add-on service help facilitate the digital release of the song through popular digital distribution channels such as iTunes, Amazon, MySpace, Spotify among others.
In addition to this Exclusive Producer offers a similar service for corporate clients who need custom songs for VIP events such as trade shows, client events, product launches and more.
About Exclusive Producer
Exclusive Producer is the world's premier VIP service for custom songs and music pieces in any language and style, for any type of occasion: birthdays, engagements, Christmas, Valentine's Day, holidays as well as corporate clients; events, trade shows, product launches etc. Exclusive Producer has its headquarters in London and serves clients around the world. Visit http://www.exclusiveproducer.com for more information
Media kit containing logos and high resolution images can be downloaded at:
http://www.exclusiveproducer.com/press
###