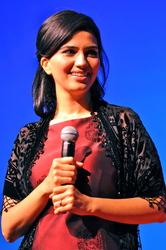 Los Angeles, CA (PRWEB) April 25, 2011
Ellie Drake, founder of BraveHeart Women, an inspirational community for women, has launched her Oxytocin Project that empowers women around the world to connect and collaborate to bring meaningful change to the world. Drake's goal is to teach women to live in a state of Oxytocin which enables women to be more creative, powerful and successful.
Hundreds of thousands of women, all BraveHeart members, are using their voice and vision to move away from competition into collaboration. As a result, they become more prosperous in business while discovering how to live aligned with their purpose. Drake, a doctor herself, explains what Oxytocin has to do with succeeding in business, "Women who are not biochemically congruent with their purpose are in a state of resistance which makes it almost impossible for them to prosper.
"We have heard about one response that humans have to stress – and that is fight or flight when the sympathetic nervous system releases adrenaline," explains Drake. "Women who spend a lot of time in the adrenaline response are prone to more anxiety, fatigue and an inability to create. To succeed, women need to feel safe, to maintain a state of calmness and security, and to follow their inner nature that promotes a 'tend and befriend' approach to collaboration. In other words, they need to be in a state of Oxytocin which is the hormone typically released during childbirth; and women can learn to create more of this hormone on demand."
Drake's plans for the Oxytocin Project are to teach women around the world her unique revelations on how to live in an inner state of Oxytocin. In this way, she believes women will reach a tipping point for collaborative change.
Drake explains further, "When women are in a fight or flight mode where there is too much adrenaline, they feel stressed and overwhelmed. Switching over to Oxytocin creates a 'connect and collaborate' space where women can be in an energetic flow that allows them to create with more ease. Being in this new space is the beginning of a big shift within the female gender and therefore in the balancing of the masculine-feminine energy in our world. This energetic shift contributes to a meaningful change from conflict to collaboration, from scarcity to abundance, from depletion to nourishment, from war-mindedness to peacefulness."
As a beginning step, Drake and her BraveHeart Foundation has launched a project for women to tend and befriend mother earth by planting trees as part of an organic outreach to the Oxytocin project in what she calls an "ocean of collaboration."
Drake describes this project, "Some women are collaborating locally to experience the Oxytocin shift by contributing to trees being planted in their urban areas. Other women are extending their contributions to conflict areas of the world such as joining Palestinian and Israeli woman in planting trees in their region." Drake's plans also include bringing together women from the western world who will meet with Israeli and Palestinian women in 2014 to experience and celebrate the Oxytocin Project.
Find out how Drake teaches women to live in a state of Oxytocin, which benefits each of them personally and professionally, plus how anyone can get involved in a global movement to create a shift within the female gender from competition to collaboration at the BraveHeart community for women
About Dr. Ellie Drake, CEO and Founder of BraveHeartWomen.com - Savvy businesswoman and entrepreneur, in-demand motivational speaker, doctor and inspiration to women and men around the globe, Ellie Drake is a multi-dimensional success. She maintains a demanding schedule of personal appearances, a successful global community as well as a series of websites, each offering insights, newsletters and products designed to help women discover their personal, professional and global purpose.
###
PR Contact: Cathy Taylor (949) 635-4923