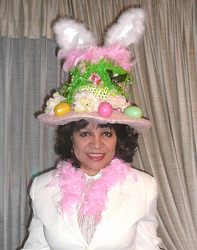 Kids of all ages love this new Designer Hat Centerpiece, especially when you fill the top with candy!
Downey, CA (PRWEB) April 20, 2011
The song Easter Parade by Irving Berlin not only immortalized the New York Easter Parade, but also the Easter Bonnet. Many Baby Boomers experienced wearing Easter Bonnets to church on Easter Sunday, along with frilly dresses and white gloves. One Easter Bonnet wearing Baby Boomer, Grandma came-up with a new way to not only wear the Easter Bonnet, she created a more practical, multifunctional purpose for the bonnet…called the Designer Hat Centerpiece and she made it for under $10.00. "Not only can you display it…you can wear it!" entertainer & hat designer, Kathy Bee emphatically states. "You've got to see it to appreciate it!"
Handling difficult financial situations, oftentimes leads to cutting back on expenses but doesn't have to mean eliminating opportunities to celebrate the holidays, special occasions or any other kind of gatherings. In Kathy Bee's quest to find alternative ways to decorate, while keeping the cost down, she believes that she has created a better mouse trap…a new multipurpose centerpiece that serves as a candy dish, and can be worn as a designer hat.
According to Kathy Bee, when it comes to creating the Designer Hat Centerpiece, you don't have to possess any special aptitude for crafts or hat designing. Just instantly download the instructional manual and follow along with the video. Kathy shares with you everything you need to know about creating your own Designer Hat Centerpiece including: where to find materials (for under $10.00), in 10 easy steps that only take 30 minutes.
Bee says that you can also use the same instructions for creating hat/centerpieces for: The 4th Of July, Halloween, Thanksgiving, Christmas, birthdays, showers, weddings and any occasion or event ...including fund raising events.
Kathy Bee is an Award Winning Singer/Songwriter, who hosted the magazine style talk show called "Touching Lives With Kathy Bee" from 1998 to 2007 in the Southern California Cable TV Market (a "People Helping People" themed show). For more Information go to http://kathybee.com. You can read the full article and see pictures at http://hatcenterpiece.com/blog
###