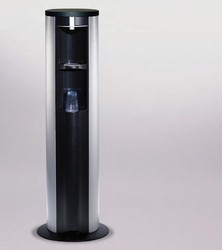 We keep our carbon emissions low by manufacturing our water coolers here in the UK
(PRWeb UK) April 21, 2011
Ebac have been manufacturing water coolers in the UK since 1993 and there are over one million Ebac water coolers currently installed across Europe. Ebac manufacture both bottled and plumbed in water coolers but in recent years demand has gradually moved from bottled coolers to plumbed in coolers. This is largely due to the increased awareness of our carbon footprints and the benefits that plumbed in water coolers can bring. Ebac were instrumental in the development of the UK market for bottled water coolers and now have an exciting range of plumbed in coolers.
Pamela Petty, Managing Director said "Though we've always thought of ourselves as a manufacturer of bottled water coolers, we have to adapt to survive and consumers want plumbed in coolers. Of course, some consumers prefer bottled water to filtered tap water, so bottled water coolers certainly won't disappear. But consumers demand choice and we can provide the right cooler for just about any scenario."
She continued "We've always been at the forefront of developing bottled water coolers and I'm confident that we have transferred this knowledge into plumbed in coolers that consumers will value. We've always designed coolers with low running costs in mind as we know this is a priority to any cooler business. Our products are reliable and naturally energy efficient due to their design and of course we keep our carbon emissions low by making them here in the UK."
Ian Ridley, Digital Marketing Manager added "As part of the new service we've launched a new website which is all about simplicity. We wanted our customers to be able to rent an Ebac water cooler in the most simple and convenient way and we've achieved this with the http://www.ebacwatercoolersdirect.com. Customers can view our water cooler range, make a selection, sign up online and get their water cooler plumbed in with ease. Once they've registered with us, they can then fully manage their account online, allowing them to maintain their account details, view or print their order or invoice history and create or edit any new orders.
About Ebac...
Ebac is a privately owned UK group of companies with its main focus on water coolers and dehumidifiers. They started selling dehumidifiers online in 2005. The Group also has interests in leisure, renewable heat sources and product design. The Group has been the market leader in Western Europe for water coolers since the mid-90s and has held a prominent position in the European dehumidifier market for over 20 years. For the past two decades Ebac has continued to expand its UK operations when others have moved their production facilities elsewhere. The Group now employs over 200 people in the UK's North East, but retains a strong export focus with 70% of its turnover coming from Continental Europe. Ebac's success is built on its dedication to quality and innovation in all areas, from manufacturing and design to HR and customer support.
Contact
For further press information please visit http://www.ebacwatercoolersdirect.com or contact Ian Ridley at Ebac on 01388 605061 or ian.ridley@ebac.com
# # #