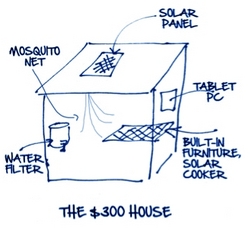 We want designers and architects to see this as a business opportunity, not as a charity case study.
Boston, MA (PRWEB) April 21, 2011
Who can design a radically affordable $300 house for the poorest of the poor?
That's the online challenge being presented by the $300 House at 300house.com/design.
The open, social co-creation project is asking everyone – from designers and architects, students and professionals, to submit their designs in an effort to find affordable housing solutions for the poorest of the poor. The mission? Design a simple dwelling that can be constructed for under $300 which keeps a family safe, allows them to sleep at night, and gives them both a home and a sense of dignity.
The $300 House project began as a challenge to businesses in a Harvard Business Review blog post by Dartmouth professor Vijay (V.G.) Govindarajan, and co-author Christian Sarkar, an independent business consultant.
"We want designers and architects to see this as a business opportunity, not as a charity case study," says Govindarajan. "This design challenge will help us get some innovative people to focus on a vast un-served market waiting to be created across the world."
The contest is being hosted by jovoto - an open collaboration platform shaping future work environments for creative talent.
"Creators from all around the world are going to engage, send in their ideas, collaborate and collectively ideate to make meaning, to learn or simply to enjoy the underlying social process," says Bastian Unterberg, the founder of jovoto, as he describes the process. "The fun really begins when people start talking about what can be done to improve each others' submissions. It's social co-creation in action."
Winners are selected by the online community and an expert panel of judges – which includes luminaries such as Yves Behar, Rahul Mehrotra, Bob Freling and others – along with David Hinds of reggae supergroup Steel Pulse.
In addition to a cash award, winners also receive a scholarship to a two-week workshop to both build actual prototypes of the $300 house, as well as operationalize a social venture to manufacture and distribute the homes. The workshop will be held in rural Alabama, through COMMON, an organization started by the American advertising guru Alex Bogusky, his wife Ana, Rob Schuham and John Bielenberg.
"Participating in the genesis of an actual social venture is something few people ever get the chance to do," says Alex Bogusky. "The experience is designed be transformative for all. You'll gain experience, business contacts, exposure to a large community, life-long friendships and perhaps a whole new career."
The project is sponsored by Ingersoll Rand's Center for Energy Efficiency and Sustainability.
Learn more at http://www.300house.com
###