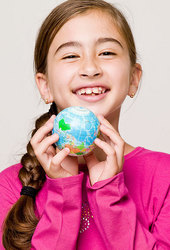 Recycling is good for the environment and it is so easy to do, a few seconds a day, and it does so much good.
Overland Park, KS (PRWEB) April 22, 2011
People's quest to save money might also be saving the environment, according to a recent survey conducted by Persuadable Research Corporation. In harder economic times people seek ways to stretch their dollars such as turning the lights off when not in use, turning the thermostat down and washing laundry in cold water. All of these actions and more result in a positive environmental impact. While almost one quarter of panelists said that they were actually trying to preserve the environment by changing their behavior, another 73% were engaged in some kind of cost cutting measures that also helped the Earth inadvertently.
Almost all, 95% of panelists claim to do several things that are good for the environment, intentionally or unintentionally, such as replacing light bulbs and furnace filters, weatherizing their homes or adding insulation. Others installed storm doors or whole house fans. Half even said they unplugged appliances when not in use. Only 5% of respondents did not do any of these things.
Almost half of respondents, 45%, claim to have changed their transportation habits over the past year. About 36% of all respondents said they were trying to save the environment, while another 38% were just trying to save money. Many walked or biked instead of driving, and 18% stated that they used public transportation more than the previous year. The same amount established carpools.
Recycling seemed to be quite popular as 87% engaged in some kind of recycling. It appears that recycling may be the most convenient and most popular way to care for our planet. However, 8% thought it was either not very important or not important at all. Moreover, 13% said that recycling wasn't convenient and the same number stated that they did not recycle at all.
Price may be a huge consideration as reflected when a definite majority, 76%, answered that they would purchase green products if the cost was similar to another product. A small minority, 10%, claimed that they always buy green products. A slightly larger number, 14%, thinks that it's all hype and do not purchase green products at all.
Around two-thirds of respondents feel that the weather in their area has been inconsistent and unusual. A majority, 60%, also believe in Global Warming. Obviously, the belief in global warming and the level of concern about the environment is higher among those who believe that the weather has become more erratic in the past few years. The unpredictable nature of weather may be motivating some to do more to save the Earth.
Outward pressures such as high gas prices, high energy prices and strange weather have a real impact on people's lives and the environment. As of late, there are many more commercials for electric cars and other money saving products. Items such as thermal curtains and electric blankets are easier to find than ever. Even many large corporations have instituted green practices to some degree. If the struggling economy has a silver lining, it may very well be that it's helping Mother Earth.
For more information about Online Market Research contact Persuadable Research Corporation. To get paid to take online surveys visit our panel site at Rocket Powered Surveys.
# # #