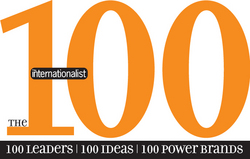 In short, the role of a Chief Marketing Officer in this dramatic time of change brought about by technology, globalization,new consumer expectations and a significant economic re-setting may be best described as 'miracle worker.'
New York, NY (PRWEB) April 22, 2011
On April 13 at New York's Trump SoHo Hotel, an elite group of marketing leaders gathered to share ideas that underscore how risk-taking and reinvention are among today's best tools for successful brand strategies in these times of dramatic change. Many in the room and at the podium had recently been named to The Internationalist's annual list of 100 Marketing Leaders from around the world. These accomplished executives are using their experience, insights and expanded responsibilities to develop new marketing solutions amid today's global complexity and redefined business objectives.
The expanded role of a 21st century marketing leader carries far greater levels of accountability than ever before. These marketers are charged with building brands now—not over time—in an environment that stresses increased sales today. Working in "real time" with accelerated decision-making and instant data feedback demands that a smart marketer execute and evaluate simultaneously-- perhaps for the first time in the history of business. And all of this must be done with smaller staffs.
A Marketing Leader must be a company's visionary and its expert on trends, while demonstrating adeptness at both internal and external communications. Add a global overlay of regulations, carbon footprints, CSR, cultures, languages, political environments and all manner of differing perspectives, and you've described one of the world's most challenging occupations-- played on a very public stage fraught with immediate customer reaction that directly affects a brand's potential for success.
Through discussion and sharing of best practices, participants in THE 100 demonstrated how they are:

Reinventing ways in which their products and services interact with consumers' lives.
Presenting a consistent worldwide image that establishes overall consumer confidence while working to connect on an individual customer level.
Discovering how brand value today is directly tied to being a champion for local economics or for larger, sustainable initiatives.
Recognizing that a combination of art and science is now critical to solid marketing programs that brings results.
THE 100 was underwritten by the following companies: BBC World News, CoreBrand and Out There Media as Premium Sponsors; Bloomberg, Euronews and The Financial Times as Supporting Sponsors and Dentsu Network West, Publicitas North America, SCAN International, Sony Pictures Television, The Wall Street Journal, World Media and The Yomiuri Shimbun as Participating Sponsors.
THE 100 opened with a provocative presentation entitled "The End of the World" by Toby Hoden, CMO of ING Investment Management and Larry Oakner, Managing Director of CoreBrand, the firm who helped ING consider its branding options. They addressed what happens when, in our new economic re-setting, a global company shrinks its world as ING Investment Management goes from Global to Local. The company's marketing team took on the unique branding challenge to transfer the equity of a global company to regional businesses with an entirely new brand. Toby Hoden and Larry Oakner shared the process by which they considered the company's best options in Europe, Asia and The Americas.
Katy Giffault, Vice President/Global Consumer Insights at Hasbro presented how reinvention can be used to a company's best marketing advantage. Hasbro has reinvented of some of the world's best-loved brands. MONOPOLY, now 75 years old, has transformed from board game to digital fun on Facebook, while SCRABBLE, now in its 63rd year, has become Toy of the Year, thanks to electronic tiles. Reinvention, reimagining and putting the consumer at the center of all strategy has been critical to keeping these brands relevant.
Luis Gallardo, Managing Director Global Brand & Marketing at Deloitte offered his view on "Marketing Darwinism" or Survival of the Fittest by suggesting that "Think Global, Act Local" is no longer enough when describing the cross-border pollination of ideas and products in today's global economy. Instead, he advocates a 360-degree view of how we can best prepare businesses for sustained, long-term profitable growth. We need "THAP" or "Think Holistic, Act Personal."
Henrique De Castro, President Global Media, Mobile & Platforms at Google helped the audience prepare for what's next by outlining some of the key trends that will affect the evolution of marketing. He discussed how everything will be digital—from convergence to mobile advertising to real-time marketing to social marketing. Among those areas where we will see the greatest change are: 1. content—where a vast amount more coming online, 2. next generation ads—be better tailored with information relevant to an individual and 3. an emphasis on buying audiences rather than sites— due to a new unbundling of audiences and content as we learn to better aggregate like-minded consumers.
Simon Jimenez, Vice President of GlobeScan, focused on the potential of the corporate brand by asking those marketers in the room a simple question: "What do you stand for?" GlobeScan's worldwide research has found that there is a growing demand among consumers to better understand what a business (not its products) stands for and believes in. This may be best described as a company's sense of purpose-- beyond the goods and services they sell. It is an increasingly powerful driver of trust, loyalty, and supportive behavior toward a company in an era of radical transparency.
A panel discussion followed with Paul Woolmington, New York Founder of NAKED, Jessica Kornacki, SVP Marketing & Sales at Wyndham Worldwide Resorts and Liz Miller, Vice President of Global Programs & Operations at the CMO Council on how innovation today is increasingly driven by the integration of marketing with technology. With customer experience frequently dependent on the level of personalized interaction, content relevance and timely response, marketers have to be more adept at teaming with IT groups and to innovate and improve web sites, call centers, social media, mobile touch and point-of-sale or service transactions. Brands from Zip Car to Nike have proven they can differentiate themselves by allowing technology solutions to enhance the innovation process.
In a lively Question & Answer session, Naked's Paul Woolmington talked with Morten Albæk, Group SVP/ Group Marketing & Customer Insight of Vestas Wind Systems about 21st century solutions for building a future-focused global brand. Vestas, the world's largest manufacturer of wind turbines, has an extraordinary vision: A world where Wind Energy can take its place alongside Oil & Gas. Morten Albæk described how he is leading the transformation of Vestas from a product-oriented company to become one of the most customer-centric business-to-business organizations in the world by 2015, while also developing and deploying a new Brand Strategy. This includes the newly-created WindMade service mark, the first global consumer label to demonstrate that a product has been made through renewable wind energy.
James Gregory, CEO & Founder of CoreBrand, presented a luncheon keynote address that demonstrated through the 2010 Brand Power Ranking Report the connection between corporate branding and a company's share price. A long advocate for demonstrating the relationship between brand effectiveness and business performance, Jim Gregory also pointed out how many corporate marketing budgets are currently underfunded—a factor which is dramatically affecting return on investment. He believes that the creation of consistent and reliable standards for marketing measurement is the single most important business issue of the decade, and advocated marketer involvement with the Marketer Accountability Standards Board (MASB) at http://www.themasb.org
Paul Price, CEO of Creative Realities provoked the audience to throw away their old marketing plans and exchange them for a new 21st century model that is more meaningful and actionable. Among those significant digital factors that will shape how we build experiences to connect with consumers are: 1. The Internet of Things, now playing a role in augmented reality and will soon have a larger presence in common apps; 2. Predictable Predictability, a factor in artificial intelligence and one that suggests how understand data can better lead to understanding behavior; 3. Personal Recognition, combined with geolocation, can be an extraordinary driver in "massive micromarketing" and at the nexus of "somolo" or social, mobile and local; 4. A Supercharged Social Web with more IM platform, more tweets, and more companies to mimic Facebook and Groupon; 5. Healthcare 3.0, or the new reality of an aging, but more connected and responsible, population sector.
Matthias Hartmann, Vice President of Global Strategy & Industries at IBM Global Business Services, demonstrated how IBM uses technology, analytics and business strategy consulting to help expand the role of the Chief Marketing Officer through bringing "science to the art of marketing." Called "Smarter Commerce," this approach enables a company's marketing department to be more transformational to business as a whole through value chain strategies and core business solutions. In addition, as part of IBM's C-Suite Study Series, the IBM CMO Study will explore emerging trends impacting 1000 CMOs around the world to reveal how they are responding to the evolving scope and needs of Marketing. To participate, email: cbaird (at) us.ibm (dot) com
Wil Merritt, CEO of Zooppa, the world's largest source of user-generated advertising, discussed how crowdsourcing has entered the marketing mainstream as a proven, cost-effectiveness tool used by both ad agencies and advertisers directly. It is also acts as a highbred strategy between traditional and social media, generating not only quality content, but consumer awareness, engagement and insights. Through numerous examples of brands around the world from Jones Soda to Webtel.mobi to South African Tourism, Wil Merrit demonstrated how crowdsourcing can capture the essence of a brand in ways that resonate with a new generation of consumers.
In one of the afternoon's highlights, three Internationalists of the Year shared how they developed extraordinary marketing solutions to challenges in their respective sectors. Jon Achenbaum, SVP/Global Strategic Marketing of Bayer Healthcare- Diabetes Division, addressed how new consumer concerns about managing their health can be translated into innovative marketing ideas, like his SimpleWins program, that have rarely been embraced by large pharmaceutical companies. Marisa Ricciardi, Chief Marketing Officer- NYSE Euronext, brought together new financial entities with NYSE and Euronext to make them appear as one seamless offering—internally and externally. While Lee Ann Daly, EVP/Chief Marketing Officer- Thomson Reuters, revolutionized one of the largest business-specific launches with strategies from consumer marketing to excite professionals in one of the most difficult economic climates. All three individuals underscored how business now operates in a new Age of Responsibility as top management demands the effective use of funds, tangible growth, cutting-edge communications and purpose-driven initiatives.
Many are calling 2011 The Year of Mobility, and a panel comprised of Claudia Lagunas, Digital & New Media Director of PepsiCo International; Barbara Williams, Mobile Marketing Global Practice Leader of Microsoft, Bant Breen, Worldwide CEO of Reprise Media and Kerstin Trikalitis, CEO of Out There Media discussed the promise of mobile advertising. For many brands, this means providing the right message to the right person at the right time in an effort to spark sales at retail. Others believe that mobile's immediacy and personal nature can also translate into building overall brand image and reputation.
Shaun Abrahamson, Founder of Colaboratorie Mutopo, a Social Production consultancy, is also the producer of Starbuck's betacup challenge. In an effort to eliminate paper cup waste, Starbuck's opened up a closed research and development process to charge customers with design, communications and strategy. While open innovation is not new, it had not been used as communications tool. The betacup strategy created more than conversation; it generated significant awareness, positive sentiment, engagement and strong public support for a concept now in store trials. In fact, this Starbuck's example illustrates how not all social conversation is created equally; however, it can engender remarkable results.
Emma Cookson, New York Chairman of BBH, believes that powerful brand communications combines the qualities of Relevance and Difference. However, she is noticing how advertising around the world has over-prioritized Relevance, while failing to deliver sufficient Difference. The result is "Windtunnel Marketing" or advertising with all distinctiveness blown away, leaving a blur of brand-interchangeable imagery, copy and claims. The phenomenon now appears to be repeating itself in the digital sphere - with Facebook pages, OLA executions, Twitter-streams, and apps sometimes varying little from brand to brand. Ms. Cookson urges true 21st Century brands to innovate and risk standing out from the crowd if they wish to thrive and grow in today's dizzying marketing world.
ABOUT THE INTERNATIONALIST
The Internationalist connects the people and ideas in international advertising, marketing and media. Now in its ninth year, The Internationalist has become a trusted source for international best practices, and is dedicated to the business needs and challenges of international marketing professionals as they participate in multinational branding and campaign building. The Internationalist is now in print, online, and in person-- through Think Tanks, Awards and Summits-- all to better serve the needs of this community.
###