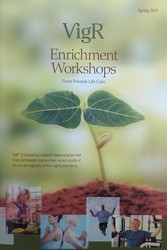 Today, many older adults spend years, and even decades, in state of steady decline. VigR™ is designed to help change all that.
Wayne, PA (PRWEB) April 26, 2011
Science suggests that in addition to genetics, controllable extrinsic factors, such as behavior, diet and lifestyle, play a crucial role in disease prevention and longevity. Today, we know that a great many diseases, especially those most often associated with aging, can be prevented through positive changes in lifestyle.
In April 2011, Friends Life Care introduces VigR™, a proactive, research-based program that helps participants identify, understand and improve behaviors that can affect their current quality of life and the trajectory of their aging experience. Members of the Friends Life Care plan benefit from all the exciting opportunities and advantages VigR has to offer. Non-members from the general public including baby boomers and seniors are also invited to participate in many of the VigR program components on a fee-for-service basis.
The VigR program has multiple components and the first one, the Enrichment Workshops, kicks off May 2, 2011 in various locations in the Philadelphia and Delaware areas. Enrollment is open to anyone and the workshop catalog can be viewed on the corporate website.
What is VigR?
Per Carol Barbour, President: "At Friends Life Care, we believe a combination of vitality, independence, growth and resilience (VigR) is required to stave off the effects of chronological aging. That's why we've built a service offering aimed at improving these four essential elements that make the difference between aging and aging well." Although Americans are living longer, they are not necessarily living better. "Today, many older adults spend years, and even decades, in state of steady decline. VigR is designed to help change all that," comments Elise Lamarra, Vice President of Clinical Operations for Friends Life Care.
Friends Life Care
Friends Life Care offers a unique, affordable alternative to traditional long term care insurance and continuing care retirement communities. The first and largest organization of its kind nationally, Friends Life Care has been helping people remain in their own homes as they age for over 20 years. Their customizable membership plans help individuals protect their savings and prepare for the unexpected as they grow older, while providing innovative options like VigR™ to help them increase their vitality and longevity.
A nonprofit Quaker organization, Friends Life Care provides comprehensive professional care management, in-home health care and complete personal-care, along with facility care should the need ever arise. Unlike long term care insurance, these individualized services are coordinated and supervised by Friends Life Care's own team of highly skilled, credentialed employees. Members have no claim forms to file and no reimbursements to wait for. Equally important, members benefit from Friends Life Care's distinctive holistic approach to independent aging. Diverse plan options include participation in Friends Life Care's proprietary VigR™ program (pronounced vigor)—a proactive, research-based offering created to help enrollees optimize and extend their mental and physical health and resilience. Non-members may also take part in many of their exciting VigR program components on a fee-for-service basis. Visit the website for more information on the benefits of membership, informational seminars, and the VigR Enrichment Workshops at http://www.friendslifecare.org.
###