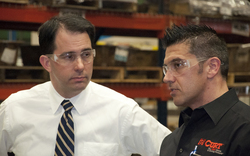 "Along with creating an overall business climate, we're working now ...to make sure we give our job creators and the communities they're partnering with the tools they need to bring economic opportunity and most importantly more jobs."
Eau Claire, WI (PRWEB) April 21, 2011
CURT Manufacturing, a leading manufacturer and marketer of top quality towing products, hosted Wisconsin Governor Scott Walker for a press conference and plant tour on April 19th. The visit included the announcement of a $625,000 Transportation Economic Assistance Grant for road and traffic improvements to the U.S. 12 and County Highway A intersection in Altoona.
The City of Altoona and the Wisconsin Department of Transportation are contributing the other funds needed to complete the road project. The improvements are made necessary because of CURT's continued expansion. CURT is constructing a 150,000 sq. ft. warehouse/distribution center adjacent to their Altoona manufacturing facility.
Governor Walker held a brief press conference inside CURT's plant and commented, "Along with creating an overall business climate, we're working now ...to make sure we give our job creators and the communities they're partnering with the tools they need to bring economic opportunity and most importantly more jobs." CURT has committed to adding 125 jobs by 2014 in conjunction with this grant and previously awarded Economic Recovery Zone bonding.
Company President Curt Tambornino added, "The road improvements and the addition of a traffic light will improve safety for CURT associates and everyone that uses this part of U.S. Highway 12. It will also allow us to operate our plant and distribution center more efficiently to support the continued growth of our business. We are very appreciative of the efforts of Governor Walker, the WI Department of Transportation, the Eau Claire Area Development Corporation, Mayor Spangler, and the City of Altoona for making this investment in our community and continued job growth."
Building construction will be completed in August. Work on road and intersection improvements will commence in 12 – 24 months.
About CURT Manufacturing: CURT is a leading manufacturer and marketer of top quality towing products. The company markets a broad range of trailer hitches, towing systems and related accessories. CURT is 'The First Name in Towing Products' for automobile and truck hitches, as well as RV and commercial towing systems. Products are marketed through retailers, distributors, installers, and e-tailers across the U.S. and Canada. CURT employs almost 350 associates, primarily at its manufacturing and headquarters in Eau Claire, Wisconsin. CURT operates 10 regional warehouses, each carrying over 2,500 items.
For additional information on CURT products, or to view the Inside CURT plant tour, please visit http://www.curtmfg.com. Or call toll free at 1-877-CURTMFG (287-8634), or contact CURT at 6208 Industrial Drive, Eau Claire, WI 54701.
Media Contact: Jim McKissick
jmckissick(at)curtmfg(dot)com
715-838-4122
###