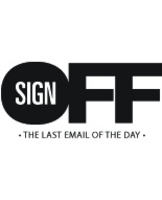 We highlight people based on their past experience and their vision. This is a fantastic opportunity to discover the persons who are going to shape the future in their cities. Marc-Henri Magdelenat. Founder
New York, NY (PRWEB) April 20, 2011
Who is about to do something amazing in New York City? Who is poised to change how we think about culture, business, entertainment or life? SignOff, profiles the ideas, ideals and visions of people who are reshaping the world in a weekly series of intimate "Who's Next" interviews.
Who's next this week in NYC? Susan Gertner: blogger, lifestyle photographer, social media addict, DJ, and all-around nightlife diva. She talked to SignOff about her fashion-centric social-driven projects StyleCaster and CLICK/CLASH, the joys and challenges of being a NYC newcomer, street fashion and "the awesomeness of Korean fried chicken." Read all about it at: http://www.timetosignoff.com
Recent SignOff Who's Next profiles include Tumblr Creative Director Jacob Bijani, social media experts Mallory and Bianca, Village Voice staff writer Joe Coscarelli, and Literary Scout Christine Perry.
"Our purpose is to present every week a person that we strongly believe is going to make a difference in the future. We highlight people based of course on their past experience but also and mainly on their vision. This is a fantastic opportunity to meet with the persons who are going to shape the future in their cities," stated Marc-Henri Magdelenat, Founder.
SignOff is the first product of TimeToSignOff, Inc. It is a free daily email for people who are too busy to scour the news every day, tailored to the city they live in.

What you've missed today: The day's most interesting international, national and local news about politics, business, technology, money and entertainment.
What You Can't Miss Tomorrow: An exclusive mix of news, events, openings, concerts and local deals for things you actually want.
In Case You Can't Sleep: Recommendations for books, movies, bars and clubs plus great stimulating tidbits in your own city
And weekly: Who's Next: Who is going to make a difference in the coming years & The 9 to Know: The absolute best in your city from museum shows, to coffee shops, restaurants, blues/jazz clubs and much more.
Written in short, digestible bullet points, SignOff is easily consumed from any type of device. Each of the stories includes an interesting fact "Fact Bomb" that readers can remember and feel even smarter.
SignOff targets urban professionals in NYC, Chicago and LA with more US cities to come. It will be launched in Paris, France at the end of Q2 2011.
For more information: Marc-Henri MAGDELENAT, Founder
mhmagdelenat(at)timetosignoff(dot)com / +1 212 966 3025
About TimetoSignOff, Inc.
TimeToSignOff Inc. is the brainchild of serial entrepreneurs in the advertising, media and mobile space, including Arthur Ceria and Michael Quinn, founders of Creative Feed digital advertising agency, RomainDessal, former Chief Commercial Officer at MPG and Marc-Henri Magdelenat, founder of ScreenTonic, a mobile advertising company acquired by Microsoft in 2007.
The TimetoSignOff advisory board includes Jesse Kornbluth, a journalist, author and editor whose credits include Vanity Fair, The Los Angeles Times Magazine, The New Yorker and The New York Timesand the cultural concierge service HeadButler.com; and Florent Peyre, an online media expert who spent three years each at LagardereSCA and Hachette Filipacchi Media before joining GILT City, a division of GILT Groupe. For more information, visit http://www.timetosignoff.com.
###