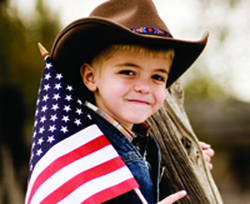 "Embrace the old West and experience Yellowstone this Summer!"
Dubois, WY (PRWEB) April 21, 2011
High up in the Rocky Mountains of Wyoming lies the quaint little Yellowstone gateway community of Dubois, WY. A place considered by National Geographic as the most remote town in the lower 48 states. Tucked in between two mountain ranges of the Continental Divide (the Wind River Range to our West and the Absaroka Range to our east) it perches on the edge of several wilderness areas and is surrounded by national forests. Truly a sportsman's and artists paradise and home to Absaroka Family Vacations.
Dubois was recently voted the "#2 Most Western Town In America 2011" by True West magazine. While the community is very excited about this auspicious achievement, they just don't think they got it quite right. So this year Dubois is buckin' for #1.
Steeped in the Western traditions of cowboy culture, Dubois, Wy is the closest town to Yellowstone's south gate from an eastern approach. The town swells with park visitors in the summertime, (although not nearly as much as other gateway communities) and has a variety of festive activities planned throughout the summer including rodeo's and concerts and a 4th of July that's second to none. Join us July 23, 2011 to celebrate our most colorful national treasure, the American cowboy in the Annual National Day of the Cowboy Celebration.
Dubois embraces western culture as a lifestyle not just because it's fun, but because well… they're all "real cowboys" round' here! So just to set the record straight, this year folks can expect a slightly different reception. The community is ready to "cowboy up" just a little bit more and entertain their guests in the way of the West.
Expect good old fashioned, friendly hospitality and incredible food from an assortment of restaurants in the form of comfort foods at the Cowboy Café or Chandlers Ranchhouse, to gourmet at it's finest in the Nostalgia Bistro. Expect the unexpected with Bison pot-pie or freshly made sushi. Healthy fast food and the most amazing handcrafted ice cream sundaes are what one will find at Serendipity and scrumptious brick oven pizza at Paya's, just to name a few. Dubois also has chuck wagons and BBQ's throughout the summer so grab a cowboy hat and come on out, it's a culinary delight.
When planning your summer vacation why not explore the wonders of Yellowstone National Park and make base camp in Dubois. Be sure to check out the all inclusive vacation packages available through Absaroka Family Vacations. With headquarters located right in the heart of downtown Dubois, they are experienced in coordinating a family vacation that will include the very best adventures Northwest Wyoming has to offer. Best of all, they are currently running a special on their Wyld West Yellowstone vacation packages, so that cowboys and cowgirls at heart can have the experience of a lifetime. Quite frankly most folks love staying in this enchanting cowboy community.
Get ready for quality family time and giggles of joy, after a day of horseback riding into the old west or attending a real cowboy cookout. Guests will find this and more on a Wyld West Yellowstone vacation package. These all-inclusive packages have itineraries that include whitewater rafting or scenic float rides, fishing, horse-back trail rides, and a fabulous hike exploring authentic Indian petroglyphs; "expect to see places more beautiful than you've imagined." Families with children will enjoy the experience of learning authentic Western crafts taught by local artisans; something so much more appreciated than a cheap plastic souvenir.
Take advantage of the opportunity to save on a vacation this summer and treat the family. See both Yellowstone and Grand Teton National Parks where folks will enjoy days filled with the bluest sky one could ever see while enjoying the thrill of an ATV adventure or picnics in pristine alpine meadows. Expect to spend nights around campfires with an Indian drum circle, and do it now for 40 percent off regular package prices.
A Wyld West Yellowstone Vacation is sure to entertain your family in a jam-packed week of fun. The all-inclusive packages offer an array of dining and accommodation options, and folks can find what they're looking for at a price they will love.
The best part? Since this Yellowstone vacation is "all-inclusive!" All the work is done already, just show up and be entertained with a mixture of cowboy musical dinner shows and fine dining. Similar packages in the area are priced at more than $12,000 a week for a family of four. A Wyld West Yellowstone Vacation including accommodations, meals, recreational activities and entertainment has an average price of a third of that; with the discount it runs right around $4,000 for a family of four. This is an all-inclusive Yellowstone vacation package that is hard to beat, and at these rates better giddy' up and get it booked!
# # #