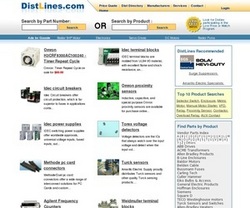 It's imparative that distributors are able to offer their products for sale online and have an e-commerce solution in place with pricing available.
Santa Clara, CA (PRWEB) April 22, 2011
DistLines.com reports on the woes of component distributors trying to burst into web 2.0 with a decent e-commerce solution. Smaller distributors struggle to catch up as big distributors take advantage of web technology.
"Smaller Distributors need to catch up and roll with the times. There's a lot they can do by uploading inventories to part sourcing sites like DistLines.com where inventory is optimzed for web crawling," said Adrienne DiPalma, founder of DistLines.com. DistLines submits xml sitemaps of their database to key search engines and still hangs on to their legacy HTML indexes to aid spiders in crawling its data by manufacturers and parts .
Multitudes of distributors don't offer their inventory on-line. They still rely on an "old school" line card which is a list of manufacturers and product lines along with an archaic RFQ form or "Call for pricing". Buyers don't want to deal with that anymore. Times have changed. They want to see the price and buy it now. They don't want to wait for a reply back via e-mail or deal with talking to a salesperson to get a price on products. Bigger and more web savvy distributors offer their inventories on-line with pricing available and an option to buy. E-commerce has been around for many years now and still so many distributors are stuck in 1994.
Amarillo Electric Specialists, Inc. has been one such distributor who has slowly dipped their feet in taking their on-line presence to a new level and is currently undergoing a site overhaul with the assistance of DistLines.com. New features and a new design tied into database optimization will be going live in the very near future. Amarillo also takes advantage of uploading their inventory on the following part sourcing Sites: Octopart, DistLines.com, Mectronic and ElectroMine.
It's imperative that distributors are able to offer their products for sale on-line and have an e-commerce solution in place with pricing available. The days of RFQ's(Request for Quotes) are long gone. Smaller distributors however are faced with the challenge of frequent price changes from manufacturers and inventory at times being archaic coming in the form of ill formatted excel spreadsheets and even worse the dreaded PDF catalog. These Distributors need an easy way to work with manufacturer inventory updates.
In an ideal world Manufacturers would supply their distributors with APIs or some sort of a customizable inventory dump to make life a little easier on them. Sourcing Sites and Distributors can keep dreaming in the meantime.
About DistLines
DistLines was orginally created by Adrienne DiPalma working as a web developer in 2006 as a test case platform to study inventory optimization. DistLines is currently free to end users and uploading distributors. For more information send e-mail to: info(at)distlines(dot)com.
###