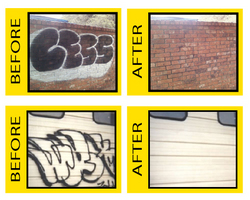 Graffiti has a negative impact on not only a business, but the community as well.
Euless, TX (PRWEB) April 21, 2011
Most business owners in the Dallas Fort Worth area have dealt with graffiti or vandalism. No matter if the business is in Arlington, Grand Prairie, Plano, Southlake or Mansfield there is always someone who wants to mark their territory.
Few things are worse than coming to work on a Monday morning to find your property has been tagged with something inappropriate and embarrassing. Graffiti has a negative impact on not only a business, but the community as well. Graffiti can signal the presence of gangs and potentially intimidate customers and employees. And even if the "tagging" is not gang related, graffiti still detracts from the appearance of the property. Being prepared by removing all graffiti quickly lets taggers know to go elsewhere for their handiwork!
How can you keep graffiti away from your business?

Take pictures of the vandalism for police
Remove the graffiti from your property right away. (Use a removal product like Graffiti Solutions, Powerwash the area or paint over it)
Call the police and report it every time you have an incident.
Help your neighbors remove their graffiti
DBox, Inc. Commercial Maintenance has been dealing with graffiti problems for years, using their Graffiti Solutions line of products (along with power washing equipment when necessary). They also have customers buy their Graffiti Solutions product lines to use themselves.
Graffiti Solutions offers these specially formulated products that can be used on a variety of surfaces:
Elephant Snot
Porous Surface Graffiti Remover (brick, concrete, masonry, landscape pavers, terrazzo, natural stone surfaces such as granite, marble, sandstone, porous rocks).
Smooth Max
Durable Surface Graffiti Remover (metal buildings/doors, glass, baked on paint, durable plastics such as portable toilets, bathroom partitions, vinyl siding).
Shadow Max
To remove permanent marker off playground equipment and also to remove"ghosts" that occasionally remain on a porous surface after using a conventional graffiti remover.
Max Swipes
Convenient pre-moistened towelettes for use on lockers, signs and plexiglass. Available in a tube of 25 towelletes.
If your business requires a more aggressive approach DBox Commercial Maintenance Company has the professional equipment and the expertise that it takes to help combat graffiti at your facilities. Call (817) 858-6920 and get on the list of DFW businesses that are already using DBox, Inc. to proactively to service and maintain their properties or check out the website at http://www.dboxinc.com/index.php.
About DBox, Inc:
DBox, Inc is a full-service Commercial Maintenance Service and Products company. On site services are provided to commercial properties across the greater Dallas / Fort Worth Texas area. The primary maintenance service markets are shopping centers and industrial parks.
Services by http://hookgraphics.com/
# # #