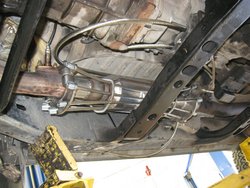 The most effective theft deterrent makes the crime difficult for the offender
Toledo, OH (PRWEB) April 21, 2011
Owners of pick-up trucks and SUVs are unwittingly sitting on platinum mines. As long as prices for platinum and other precious metals found inside catalytic converters keep skyrocketing, thieves will continue to target the dirtiest part of the exhaust system, often fetching up to $300 per converter from unethical scrap metal dealers.
While little can be done to stop the crime in action, law enforcement agencies are advising vehicle owners to take preventative measures. In his educational guide "Theft of Scrap Metal," published by the U.S Department of Justice, Brandon Kooi, associate professor and director of the criminal justice program at Aurora University, Illinois, features the recently patented CatClamp as an ideal solution for this growing problem. "The most effective theft deterrent makes the crime difficult for the offender," said Kooi.
The CatClamp's patented cable cage design secures catalytic converters with an aircraft grade steel cable cage that's virtually impossible to cut — far too much trouble for thieves in a hurry. "It takes less than 30 seconds to saw off a catalytic converter," said Jim Dusa II, developer of the CatClamp. "Vehicle owners can invest in a CatClamp for as little as $149, which is significantly less than the $500 to $2,500 it typically costs to repair or replace an exhaust system."
Toyota 4-Runners and other high-clearance SUVs are the vehicles of choice for thieves. In early April, Dusa took the CatClamp on the road and presented his catalytic converter theft solution to 18 Toyota dealerships in California and Nevada. He returned from his trip with orders from 13 of them. But until more auto dealerships and manufacturers respond to the ease and growing trend of this crime, Dusa advises owners to make the after-market investment and eliminate costly repairs and time without their vehicles — before it's too late. "To minimize your chances of becoming a victim," said Dusa, "be proactive and keep thieves out of the driver's seat and out from under your vehicle."
About the CatClamp
The CatClampTM was invented by Jim Dusa II, owner of American Welding Inc., a reputable custom fabrication company in Toledo, OH. The company was approached by a long time customer with a large fleet of vehicles hoping to solve the problem of catalytic converter theft on their trucks. Fueled by thousands of dollars of metal theft over the course of his 15 years in business, Dusa saw an opportunity to get even with these metal thieves and help business owners and citizens avoid becoming victims.
After a year and half of intense testing and development by engineers, professionals with 20+ years of metalworking experience, and fleet managers of large companies, the CatClampTM converter lock has proven itself to be a superior product and sets the benchmark for catalytic converter security.
The CatClamp is the original catalytic converter lock and it has proven to be 99.99% effective for more than three years worldwide. For more information call (419) 478-1313 or visit http://www.catclamp.com.
# # #