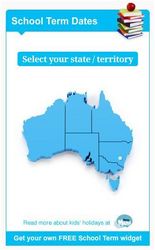 We wanted to make scheduling fun days out for your kids as easy as possible, so we launched our free School Term Dates widget to help you do just that
(PRWEB) April 20, 2011
Kleenexmums.com.au has launched a brand new widget designed to help mums track school term dates and public holidays. An improvement on the current system of 'Googling' it and sifting through various state government websites, the new widget brings all necessary information together, making it easy for busy mums to plan both holidays and school days.
Melissa Gassman, co-founder of Kleenex Mums, is enthusiastic about the convenience the new widget will bring to mums all over Australia. "Surviving the school holidays is achievable with a little planning and a lot of patience. And it doesn't hurt to keep a few tricks up your sleeve. We wanted to make scheduling fun days out for your kids as easy as possible, so we launched our free School Term Dates widget to help you do just that," she said.
Arguably one of the widget's best features is that it's embeddable, so anyone can have it on their website. "Kleenex Mums is all about making parenting that little bit easier and we know this widget is going to be a 'mum-essential' so we have made it embeddable. Mums can put it on their personal websites or blogs and always have easy access to it," said Gassman.
Kleenex Mums is an online community of Australian mums sharing advice about parenting. For more back to school information, visit our website or go straight to our School Term Date widget.
# # #