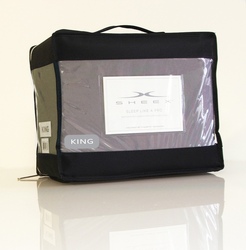 Unlike soak-drenched cotton T-shirts and shorts, performance fabrics breathe better, control temperatures, wick moisture and stretch to move with your body. We knew there was an opportunity to translate these benefits into a more comfortable bed sheet.
San Diego, CA (PRWEB) April 21, 2011
Having gained rapid acclaim fueled by word-of-mouth momentum, SHEEX, Inc. has announced that SHEEX Performance Sheets, the high-quality bedding engineered to help people Sleep Better and Play Better, are now available at select Bed Bath & Beyond stores nationwide and online at bedbathandbeyond.com. Inspired by athletic performance fabrics, SHEEX is the world's first performance line of bedding that provides enhanced comfort, temperature control, breathability and moisture-wicking capabilities that cotton cannot offer.
This marks the most significant retail launch yet for the innovative company, which was founded by nationally recognized former basketball coaches Susan Walvius and Michelle Marciniak after witnessing first-hand the evolution of performance fabrics in athletics. Walvius and Marciniak were inspired to develop a game-changing product that offers superior comfort for better sleep.
"Michelle and I loved the ridiculously soft feel, the breathability and the quick-dry capabilities of the finest performance fabrics," Walvius said. "Unlike soak-drenched cotton T-shirts and shorts, performance fabrics breathe better, control temperatures, wick moisture and stretch to move with your body. We knew there was an opportunity to translate these benefits into a more comfortable bed sheet."
After two years of research and development, SHEEX Performance Sheets featuring SLEEP•FIT Technology went to market in 2009 as the world's first luxury bed sheets crafted from performance athletic fabrics.
SHEEX Performance Sheets were designed with one goal in mind: to help people sleep better. Independent lab testing has shown that the advanced materials used in SHEEX are able to create and maintain optimum conditions for deeper, more restorative sleep. SHEEX breathe nearly 50 percent better than traditional bedding to reduce sleep-disrupting temperature fluctuations at night; they also transfer body heat two times more effectively than cotton, thereby promoting cooler temperatures, which researchers say is optimal for better sleep. SHEEX also have three times the drying power of cotton to keep sleepers cool, dry and comfortable.
SHEEX believes strongly in the often-overlooked importance of sleep for achieving peak performance – whether on the court, field, track, or just in daily life. This is why SHEEX has partnered with the National Sleep Foundation (NSF) to promote the message of improving sleep health, something millions of Americans say they would like to achieve. Each set of SHEEX Performance Sheets will include a Sleep Fitness Plan from the NSF. According to the National Sleep Foundation:

Getting enough sleep improves your alertness, energy, mood and performance.
Your diet and weight are influenced by the hormones secreted while you sleep. People who sleep an average of five hours or fewer a night are more likely to become obese than people who sleep seven or eight hours a night.
A good night's sleep contributes to keeping you well and helping you recover when you get sick.
"Sleep is as important as diet and exercise to your health and well-being," says David Cloud, CEO of the National Sleep Foundation. "That's why we're excited to work with SHEEX on educating Americans about sleep and how it relates to performance."
In developing an innovative new business concept to help improve people's sleep, Walvius and Marciniak have applied their backgrounds in sports and coaching. Walvius coached Division I women's basketball for 18 years, most recently as the head coach at the University of South Carolina. Marciniak starred at the University of Tennessee, where she won a national championship in 1996 and was named Final Four MVP, then played in the WNBA before joining Walvius' staff at USC.
"At first, it was a matter of finding the perfect fabric and figuring out how to make great quality sheets out of it. But after that, we had to thoroughly test the product and then think through how to expand the product line to build a brand that represents something special," Marciniak said. "We've been able to cultivate relationships with a lot of people because of our sports experience and connections."
SHEEX Performance Sheets will be available at select Bed Bath & Beyond stores and bedbathandbeyond.com in Queen and King sets, along with standard and King pillowcases. Additional sizes, as well as the SHEEX Nautical, Baby and Travel Collections, are available at http://www.SHEEX.com. To learn more about SHEEX and SLEEP•FIT Technology, view the SHEEX video here: http://www.sheex.com/promovideo.asp
About SHEEX
SHEEX, Inc. designs, develops and markets performance-fabric sheets and pillowcases. The company's primary products are bed sheets with technological features that wick moisture, regulate temperature and aim to generally improve comfort by optimizing thermal conditions for better quality sleep. SHEEX product lines include the Home, Nautical (boat), Travel and Baby Collections. Future product offerings include sleepwear, pillows, mattress pads, duvets, travel blankets and the SLEEP•SAX travel sleep sack.
SHEEX has been seen at the ESPYs, the U.S. Women's Open Championship, the Women's Final Four, the Kraft Nabisco LPGA and the National Association of Collegiate Women Athletics Administrators annual convention. The SHEEX founders have twice been recognized at Fortune Magazine's Most Powerful Women Summit and are profiled in the March issue of O, The Oprah Magazine. View a sneak peek of the story here: http://ow.ly/3XDeQ
More information about SHEEX and its products is available at http://www.SHEEX.com.
About the National Sleep Foundation
The National Sleep Foundation is dedicated to improving sleep health and safety through education, public awareness and advocacy. It is well-known for its annual Sleep in America poll. The Foundation is a charitable, educational and scientific not-for-profit organization located in Washington, D.C. Its membership includes researchers and clinicians focused on sleep medicine, professionals in the health, medical and science fields, individuals, patients, families affected by drowsy driving, and more than 900 healthcare facilities throughout North America. Please visit http://www.sleepfoundation.org for more information.
Press Inquiries:
Elisette Carlson
Smack! Media
elisette(at)smackmedia(dot)com
858-735-2711
###