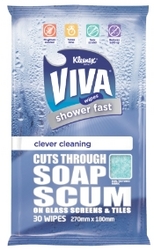 Anything that cuts down on cleaning time for mums is a godsend. When you've got kids running around one the last things you have time for is cleaning the shower
(PRWEB) April 26, 2011
Kleenex's all new VIVA Shower Fast Wipes have hit the shelves. Designed to provide a fast, high quality clean to shower screens, the product is expected to impress time-poor mums and dads, as well as those who can never seem to find time to clean the shower.
Buyers can expect fast-action shower wipes designed to cut through scum with ease. Made from a unique non-scratch dual textured fabric, the new wipes have a smooth side for lighter bathroom cleaning jobs and a scrub side to lift and trap soap scum.
Melissa Gassman, co-founder of Kleenex Mums, is enthusiastic about the new product, "Anything that cuts down on cleaning time for mums is a godsend. When you've got kids running around one the last things you have time for is cleaning the shower," she said.
A study conducted by Kleenex VIVA revealed that this chore is one of the least favourite amongst Australians; however, the average Aussie spends a whopping eight hours a year cleaning the shower.
Gassman believes the new wipes will change this. "The new VIVA Shower Fast Wipes drastically reduce shower cleaning time. Mums can even get this task out of the way while the kids are in the bath!" she said.
The study also revealed that 40% of Australians clean the shower naked, 40% rate the shower as the best place to think free from distraction, and Australians would prefer to clean the toilet over the shower.
Kleenex Mums is an online community of Australian mums sharing advice about parenting and also represents VIVA Paper Towel, Kleenex Facial Tissue and Kleenex Cottonelle Toilet Paper. For more information visit the Kleenex website.
###