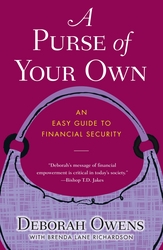 "Nine out of ten women are going to be responsible for their own finances which is why it is critical they create a purse of their own. The journey to financial freedom is a lot easier when someone you know and trust is taking the trip with you. "
Laurel, MD (PRWEB) April 25, 2011
How did five women pay off $30,000 in debt and jumpstart their savings in less than a year? Their inspiring story is told in the May issue of Essence, the preeminent lifestyle magazine for African-American women.
Essence joins the growing list of publications to profile Author and Wealth Coach Deborah Owens and her dynamic campaign to empower one million women with financial literacy.
The Baltimore-based radio talk show host and sought after public speaker is featured along with the Women of Purseistence, one of the Purse Groups inspired by Owens' effort to teach women how to build wealth.
Learn how Deborah's 7 Wealthy Habits, taken from her latest book A Purse of Your Own by Simon and Schuster, are transforming women's lives as they form Purse Groups and take control of their finances. "Purse Groups of five to ten women work because each step of the way these women are holding each other accountable," says Owens. "Nine out of ten women are going to be responsible for their own finances which is why it is critical they create a purse of their own. The journey to financial freedom is a lot easier when someone you know and trust is taking the trip with you. "
Owens would be delighted to show your audience how to form their own Purse Group, and can discuss:

Why women must change their attitudes and behavior toward their finances in order to build wealth
How women can break the patterns that sabotage financial success
What women can do right now to find the money to save and invest
Why women must understand the financial markets in order to put their money to work
The Purse Groups are tracked and supported by an online community at http://www.apurseofyourown.com. Women join the Purse Community website, share their experiences on the road to financial freedom, and get smart money advice from Owens.
Deborah Owens is also the author of Confident Investing and Nickel and Dime Your Way to Wealth. Owens is a former Vice President at Fidelity Investments and has been featured on CNN, ABC, and The Washington Post, She is a twenty-year veteran of the financial services industry and a sought after speaker whose wit and humor has inspired more than100,000 people at conferences throughout the country. Owens is on a mission to help people of all incomes build wealth. Her weekly radio show, Wealthy Lifestyle airs on WEAA 88.9FM, an NPR affiliate in Baltimore. Her Financial Fitness column appears in Cents Magazine an American Airlines publication.
# # #