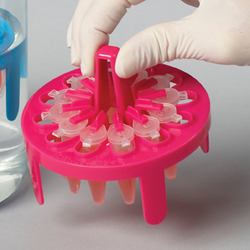 Samples stay safe, even when under pressure from incubation. There's no more worry about tubes 'popping' open.
Pequannock, NJ (PRWEB) April 26, 2011
Sample loss can be easily avoided with PrepSafe™ Microcentrifuge Tube Mini Floating Racks by Bel-Art Products. Unlike other floating racks, unique patent pending tabs protect samples from loss and contamination by 'locking' tubes in place and keeping caps closed. Just slide tubes under the tabs to keep them from opening when under pressure, floating, submerged, knocked over, or turned upside down.
PrepSafe™ Microcentrifuge Tube Mini Floating Racks are perfect for use in water baths. "When tubes are placed into a water bath for incubation, the heat from the water causes the pressure within the tube to rise. This can cause tube caps to pop open and the tube contents to be expelled from the tube," according to Lenny Hernandez, Product Manager for Bel-Art Products. "Our unique built-in tabs keep MCT tube caps closed when in the PrepSafe™ rack."
The 95mm (3¾") outer diameter PrepSafe™ racks fit most 1000ml beakers. They are made of polypropylene plastic and are steam autoclavable at 121°C (250°F). A raised handle allows for easy lifting without agitating the samples and stable feet keep racks upright on the bench no matter how many tubes are in the rack.
Tracking samples is easy when using PrepSafe™ MCT Mini Floating Racks, adds Hernandez. "They hold up to twelve 1.5ml or 2.0ml microcentrifuge tubes and each tab is numbered one through twelve to assist researchers in staying organized."
Scienceware® PrepSafe™ Microcentrifuge Tube Mini Floating Racks are available in four colors; natural, turquoise, fuchsia and neon yellow. An optional, removable vortexing attachment allows the 12 samples within the rack to be vortexed simultaneously.
Suggested list price for the racks without the vortexing attachment is $10.00. With the removable vortexing attachment, suggested list is $16.00. The vortexing attachment can be purchased individually for a suggested list price of $8.00.
For more information on Scienceware® PrepSafe™ Microcentrifuge Tube Mini Floating Racks, or the complete line of laboratory offerings from Bel-Art Products, call 1-800-4BELART, email info(at)belart(dot)com or visit http://www.belart.com. To request a FREE copy of the Bel-Art Products 2011 Catalog, click here.
Bel-Art Products simplifies tasks with innovative product solutions for science, industry and healthcare. Over 3500 items from safety wash bottles to fume hoods are manufactured and marketed under well-known brand names including Scienceware® laboratory products, Spinbar® magnetic stirring bars, Magic Touch™ icewares, Sterileware® sampling tools, Secador® desiccator cabinets, KLETT® colorimeters, and Poxygrid® racks. Established in 1946, Bel-Art Products is a United States based manufacturer headquartered in Pequannock, NJ.
# # #