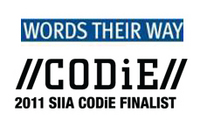 New York, NY (PRWEB) April 22, 2011
Words Their Way Online Workshop is a finalist in the prestigious 2011 Software & Information Industry Association (SIIA) CODiE Awards. Pearson's online, interactive professional development tool that provides educators the practice and guidance needed to successfully teach their students phonics, vocabulary and spelling is recognized in the Best Professional Development Solution Category.
Established in 1986, the CODiE Awards celebrate outstanding achievement across the software, digital information and education technology industries. Nominated products undergo an intensive review by subject matter experts, analysts, journalists and other respected authorities in education technology.
"Words Their Way Online Workshop exemplifies the powerful way that online learning is transforming professional development for today's teachers and other professionals. Teachers who participate in Words Their Way delve deeply into learning a new instructional approach for word study and what they are learning is validated by real-world video examples," said David Daniels, President of the Integrated Solutions division for Pearson Learning Solutions. "We are honored that our online professional development course has received this recognition by SIIA for its innovative integration of technology to support teacher professional development."
The online professional development tool features videos of real-life classrooms that demonstrate this instructional approach, giving teachers the opportunity to see this approach in action. Click here to watch a video of the Words Their Way Online Workshop.
Words Their Way Online Workshop is a "mastery" course with the versatility to be completely self-paced or integrated into in-service sessions for teachers at all grade levels. This instructional approach, developed by Pearson authors Donald Bear, Marcia Invernizzi, Shane Templeton and Francine Johnston, teaches word study along a continuum of five stages: emergent, letter name-alphabetic, within word pattern, syllables and affixes, and derivational relations.
For the second consecutive year, Pearson tops the list of companies with products named as CODiE finalists with 15 innovative ed-tech and information management products--developed based on the company's commitment to leveraging the power of technology and innovation to prepare today's students for success in college and careers--earning recognition. Pearson products earning finalist honors span the spectrum of today's breakthrough education and business technology products, such as learning Apps, educational games, technology-driven professional development and robust systems for managing information and data. Pearson's programs are focused on college and career-readiness and preparing students to meet the Common Core State Standards.
In addition to Words Their Way Online Workshop, the company's products moving on to the next round of competition in this year's CODiE Awards are Calculus: Early Transcendentals (e-Book), enVisionMATH: Understanding Fractions, EQUELLA, Grammar Jammers Primary Edition, Hospitality and Tourism Interactive, MyLiteratureLab, MyMathLab Algebra I and II, MyMathTest, MyReadingLab, myWorld Geography, PowerSchool 6.2, PowerTeacher 2.0, SuccessMaker and SuccessMaker Collaborate.
In the next step of the CODiE Awards process, Words Their Way Online Workshop will be voted on by the entire SIIA membership who determines the winner in each category. The CODiE Awards will be announced at the 2011 Ed Tech Industry Summit in San Francisco on May 23.
About Pearson
Pearson (NYSE:PSO), has as its mission to work side by side with states, districts, teachers, students and parents to ensure that every child is prepared for college and careers. For more information, visit http://www.pearsoned.com/.
# # #