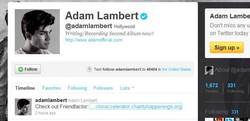 "Our Servers got Glam'ed, but we are back in action."
New York, NY (PRWEB) April 22, 2011
When you roll out the official launch of a charity event you tend to pray for a sell-out. What you don't expect is a complete virtual overrun of traffic as a viral spread takes your servers down - but that's just what happened to Friendfactor after American Idol winner Adam Lambert tipped his Twitter followers off to their upcoming event.
The event, which is hosted by Chelsea Clinton, Kristen Bell, Andy Cohen and Miss New York was set to sell tickets through an event page hosted on CharityHappenings.org - a system devoted to helping non-profits use a simple interface to generate buzz , promote events and process ticket sales.
At 1pm EST on April 20th, Adam Lambert sent a tweet about the charity launch party for Friendfactor which is a next-generation gay rights organization. The goal of Friendfactor is to combine the power of technology and friends - be they straight or gay - to achieve full legal freedoms much faster for the LGBT community in America. The link and tweet in question was promoting a May 3rd launch party where Friendfactor plans to unveil a new online tool (the 'Friend-setter') to help straight people support the rights of gay friends.
Adam Lambert was more than willing to support the cause by sending out a tweet stating: "Check out Friendfactor" with a link to the event page. Adam Lambert's 995,000 Twitter followers "Glam'ed" or briefly crashed the servers. A flurry of activity ensued @CharityHappens with Twitter users touting, "Welcome to Glam Nation! Crashing websites is what we do. Consider it our version of a casserole."
Charityhappenings.org Director, Justin Baer states "Our servers got Glam'ed, but we are back in action and appreciate Adam's support. We're working to ensure that our servers are ready for another onslaught from Adam's Glam Nation."
For more information on the May 3rd launch event you can view the (now live) event page at http://friendfactoraccelerator.charityhappenings.org or visit http://www.friendfactor.org for more information. Click to view a live demo of Friend-setter in action
About CharityHappenings.org
CharityHappenings.org is the online social hub and community for the country's most influential philanthropic society. With over 140,000 active A-list subscribers, CharityHappenings.org provides the inside scoop on the hottest charitable events, philanthropists and ways to get involved, including our free, comprehensive master calendar with event coverage. For more information visit http://www.charityhappenings.org
###