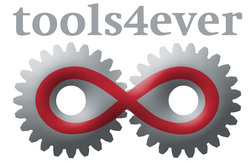 Seattle, Wash. (PRWEB) April 22, 2011
Tools4ever announced it will showcase its latest release of Enterprise Single Sign On Manager (E-SSOM) at the 2011 Interop Las Vegas Conference and Expo May 8-12, 2011. Tools4ever team members will be on hand in both #1176 to demonstrate the latest E-SSOM release as well as User Management Resource Administrator (UMRA) and Self Service Reset Password Management (SSRPM).
Tools4ever's E-SSOM solution provides organizations with a tool that allows for a user to execute a single sign-on into applications and systems he/she needs to do a job. Organizations in varying sizes have many of the same issues with their password management processes; a user is faced with having to memorize multiple passwords with multiple complexities causing what is known as 'password fatigue.' In an effort to keep password and log-in information organized, users will often write information on sticky notes and post them around their workstations. This practice leads to an insecure situation and system administrators are left worrying about audit compliance and network security.
With E-SSOM, users simply enroll their log-in and password credentials into the tool once and upon the subsequent log in E-SSOM will circumvent the process and automatically log the user in with their credentials. The latest release of E-SSOM includes two unique features; Fast User Switching and Follow Me.
•Fast User Switching: Enables a workstation and its applications to be available quickly. A user only has to log into E-SSOM instead of the slow Windows log-in window, after which the applications for which he/she is authorized are launched and logged into automatically. If the application has already been launched, only logging in has to be done. By using a smartcard (a user pass), this process can be simplified and accelerated even further. Once a user presents the smartcard to the reader, this is recognized by E-SSOM and the user is automatically switched, logged in and the right applications are launched, without the user having to do anything further.
•Follow Me: Works in combination with Citrix or Terminal Services. The user begins by logging into the network and launching the required applications (E-SSOM provides automatic login). If this user then switches workstations, he is able to 'take' the logged-in session with him to a different workstation. Just as with Fast User Switching, it's possible to link user-switching to a smartcard. This means the user only needs to be identified with a pass and an optional PIN code
Join Tools4ever at the 2011 Interop Las Vas Conference and Expo at booth #1176 for a first hand demonstration of the new functionality within E-SSOM.
"We thank Tools4ever for choosing Interop to share their latest solution with the community. At Interop we're focused on showcasing the latest in business technology solutions and strategies. This year, and for our 25th anniversary, we've put together a unique program with the most important topics and innovations facing the industry today," said Interop GM, Lenny Heymann.
About Interop ®
Interop® drives the adoption of technology, providing knowledge and insight to help IT and corporate decision-makers achieve business success. Part of UBM TechWeb's family of global brands, Interop is the leading business technology event series. Through in-depth educational programs, workshops, real-world demonstrations and live technology implementations in its unique InteropNet program, Interop provides the forum for the most powerful innovations and solutions the industry has to offer. For more information about these events visit, http://www.interop.com.
About Tools4ever
Tools4ever distinguishes itself with a no-nonsense approach and a low Total Cost of Ownership. In contrast to comparable Identity & Access Management solutions, Tools4ever provides a complete solution in several days rather than weeks or months. Partly thanks to this approach, Tools4ever is the undisputed Identity & Access Management market leader, with more than one million managed user accounts. Visit http://www.tools4ever.com for more information.
# # #