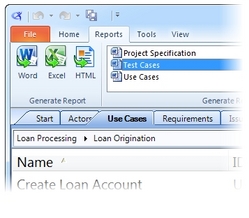 These new capabilities definitely kick things up a notch.
Milwaukee, WI (PRWEB) April 25, 2011
Serlio Software Development Corporation announced the release of CaseComplete 2011, the latest update of its requirements management tool. CaseComplete helps software project teams easily gather, organize and communicate software project requirements. CaseComplete drives requirements with use cases - a technique that focuses on how users will interact with a new system – to ensure a clear project vision that both easy to understand and has the right level of detail.
Easier To Learn, Easier To Use
CaseComplete 2011 incorporates a new user interface that makes getting started faster and easier. The new interface is based on the Microsoft Fluency interface used by Microsoft Office products. "By far, the majority of people learning CaseComplete have been working with requirements templates using a word processor and a spreadsheet. They already know the Microsoft Office Fluency interface design," noted Matt Terski, Serlio president and founder. "We've redesigned the user experience so they start out with a set of tools that they already know." The new user interface makes it easy for business analysts to create and manage use cases and requirements, create specifications and custom reports, track issues and manage data definitions in the CaseComplete dictionary.
Easier Licensing
Terski also highlighted changes to the software licensing. "Our customers have told us that our third party licensing was a pain in the neck and wasn't very flexible. We've rewritten it from the ground up to make it easier to activate and manage. Activating behind a proxy no longer requires an email to the help desk. Team licenses can be managed under a single serial number. It's easy to move a license from one computer to another."
Easier Diagramming
CaseComplete 2011 includes improved tools for creating activity diagrams,use case diagrams and other types of diagrams for project specification. "We worked on hard on usability – the location of the tools, how many gestures it takes to perform a task – all of the tools are right where they should be." commented Terski. New diagramming features also include easy access to custom actor shapes.
Reporting and Document Generation
CaseComplete power users will appreciate the new features in the CaseComplete reporting engine. New capabilities include "headless" report generation for automating document generation, enhanced ability for conditionally inserting sections into documents, and support for sending parameters to the report generator. "The document generation capabilities in CaseComplete are one of its primary strengths" Terski notes. "These new capabilities definitely kick things up a notch. Our enterprise customers will really appreciate being able to set up scheduled tasks to automate daily publication of specifications and changes."
Free 30-Day Trial
A free 30-day trial of CaseComplete 2011 is available for download at http://www.casecomplete.com. Customers with a current support agreement can upgrade at no cost. Upgrade pricing is also available for users of earlier versions.
About Serlio Software Development Corporation
Serlio Software was founded in 2002 on the principle that enterprise tools should be reasonably priced and easy to use – a radical idea at the time. Their flagship product, CaseComplete, embodies that principle. Adopted by teams using agile and other lifecycle models, it helps them gather, organize and communicate requirements – allowing them to come to agreement about what a project is going to deliver, faster than ever. Serlio Software is located in Metro Milwaukee, Wisconsin.
# # #