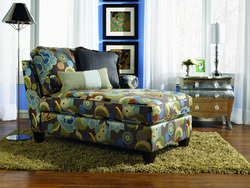 Although La-Z-Boy is well-known for making 'dad's chair,' we also have a wide selection of great-looking, customizable furniture to help create a relaxing and modern 'mom cave.'
Monroe, Mich. (PRWEB) April 22, 2011
When Lisa Bowman imagines her ideal home-based peaceful retreat, she envisions good wine and classic 80's music. All Amber Hamilton needs is a lock on the door! These moms are ready to make their dream rooms a reality. Make way, men, because mom wants a "cave" of her own.
While 40 percent of homeowners have an appointed "man cave" and an additional 13 percent have one in the works*, moms are staking their claims to their own private havens in the home. Now, the experts of comfortable furniture for the "man cave" help deserving women make their "mom cave" – a calming refuge to get away from the stresses of the day.
"We've heard from our female customers that moms want an area of the home all to themselves, too, and we think there's nothing better a mother can do for herself than to find a comfortable place to kick back and relax at the end of the day," says Penny Eudy, product manager of upholstery for La-Z-Boy. "Although La-Z-Boy is well-known for making 'dad's chair,' we also have a wide selection of great-looking, customizable furniture to help create a relaxing and modern 'mom cave.'"
Creating a comfortable "mom cave" can be an easy afternoon project; here are simple steps to make a mom haven:
•Find the perfect spot: There is one important factor when choosing an area for your "mom cave": a door. A closed off space is vital to creating a quiet, calm space, and will make family members think twice before entering mom's zone. If a spare room isn't available, there may be a large closet that can turn into a cozy nook. If all else fails, pick a remote corner away from the buzz of family activity. A handmade sign reminding the kids that you're relaxing also can do wonders.
•Add some style: Once the perfect space is selected, it's time to decorate the room to match your style. A cozy chair is crucial for relaxation; La-Z-Boy offers chairs so sleek you'll be surprised they recline, as well as chic matching chairs and ottomans to kick back in. If the room is larger, a loveseat or chaise lounge may fit the bill. With a wide range of up-to-date styles and fabric options, La-Z-Boy furniture will make you feel like a queen in your sanctuary. Next, pick paint colors and accessories that fit your style. Looking for a soothing spot? Choose soft colors. Or pick fun, feminine colors that wouldn't usually be found in the rest of the house.
•Stock up: Once the room's décor matches your style, stock up on the essentials. Load the room with books, candles, music and everything needed to help you relax. If there are fights over what to watch on TV, you can have your own. Or if you need a quiet place to work, a lap desk and computer may be necessary.
To find the perfect seating for the "mom cave" or design a 3D image of the room, moms can visit http://www.lzb3D.com. To see the full range of affordable La-Z-Boy furniture including accent chairs, sofas, sectionals, and loveseats, visit http://www.la-z-boy.com.
About La-Z-Boy
Headquartered in Monroe, Mich., La-Z-Boy is one of the world's leading residential furniture producers. The company manufactures a full line of comfortable products for the living room and family room, including the company's world-famous recliners, reclining sofas and loveseats, sleep sofas, modular furniture and leather upholstery, as well as stationary sofas, loveseats and chairs. It is a division of La-Z-Boy Incorporated (NYSE: LZB), one of the world's leading residential furniture producers, marketing furniture for every room of the home. Live life comfortably.SM
*According to CustomHomeOnline.com, 2009,
http://www.customhomeonline.com/industry-news.asp?sectionID=204&articleID=846566
# # #