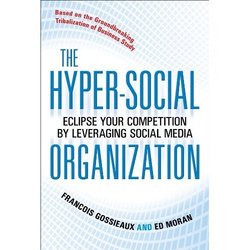 "If you want to succeed in business today, you need to power your business processes with Humans, "and you need to bring humanity back into business." Francois Gossieaux
Andover, MA (PRWEB) April 22, 2011
The Hyper-Social Organization is based on data and case studies from the annual Tribalization of Business Study now in its third year. The book helps executives make sense of this current wave of innovation, powered by social media. The authors argue that to understand the fundamental shifts that are shaking up businesses today you are better off understanding the Human 1.0 (which has not changed in the last 10,000 years), rather than trying to understand the Web 2.0 tools.
"If you want to succeed in business today, you need to power your business processes with Humans, "and you need to bring humanity back into business." says, Francois Gossieaux, the co-founder of Human 1.0 and co-author of The Hyper-Social Organization. Listen to the author's podcast about Being Human on Management Craft (http://tinyurl.com/2ay3gar).
The book reveals how companies that are successful in harnessing the power of Social Media, Communities, or the Web 2.0, think differently about their business and act differently. Successful companies focus on Tribes and Knowledge Networks instead of the more traditional Market Segments and Information Channels, and they are human-centric to a fault, ditching the old company and product-centricity. They turn all their business processes into social processes and they embrace the messiness that comes with the social.
The Hyper-Social Organization is available on Amazon (http://amzn.to/9hRSok). Francois Gossieaux is also available for speaking engagements, interviews, and/or executive workshops. See more at http://www.human1.com/blog and emergencemarketing.com.
The Axiom Business Book Awards are intended to bring increased recognition to exemplary business books and their creators, with the understanding that business people are an information-hungry segment of the population, eager to learn about great new books that will inspire them and help them improve their careers and businesses. A complete list of the 2011 winners and finalists in each category can be found at: http://bit.ly/hgKxF6
###