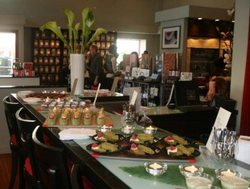 TEA*VENTS are intimate in-store gatherings where like minded tea lovers can explore tea, tea culture and food pairings and have been a huge success story at American Tea Room. Many TEA*VENTS sell out weeks in advance.
Beverly Hills, CA (PRWEB) April 25, 2011
American Tea Room is pleased to announce our Summer 2011 TEA*VENT Schedule. Several times each month this Summer American Tea Room will host a specially themed TEA*VENT ~ an event where TEA is the STAR. Each TEA*VENT is a special intimate gathering of between 6 - 24 like minded tea enthusiasts. TEA*VENTS take place on Sunday mornings from 11 AM to Noon in-store before opening hours or at 7PM on Wednesday evening after the store has closed, creating an exclusive private event where attendees can immerse themselves in all things tea, tea ware, education, tea & food pairings, chef demonstrations and more.
This Summer American Tea Room debuts several new TEA*VENTS including From Russia With Love featuring an array of Russian Tea paired with Russian food delights Wednesday July 13, 2011 from 7 - 8:30 PM; Iced Tea Social on Sunday June 12, 2011 from 11 -12 featuring five incredible iced tea paired with gourmet food selections and Matcha Madness our celebration of all things matcha, including Iced Matcha Blasters, confections made with the Japanese powered tea as well as other delights created exclusively for American Tea Room this evening Wednesday August 10th.
Join American Tea Room and fellow tea enthusiasts as we share our knowledge in an informal class like setting for our popular Tea Tasting & Pairing Class or enjoy some adult libations at our TEA + COCKTAIL TEA*VENT Wednesday June 22 at 7 PM.
To insure the TEA*VENT experience is optimally enjoyed each event is very limited in size from 6 -24 people. "TEA*VENTS have been hugely popular," says David Barenholtz CEO of American Tea Room, "Each week we are able to entertain, enlighten and increase awareness of tea, tea culture and food pairings -- and many sell out weeks in advance."
# # #