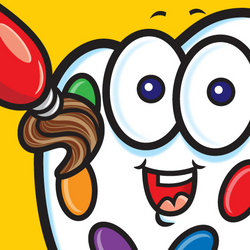 Color theory is an important educational foundation in order for any early elementary student to develop a talent for art.
Weatherford, TX (PRWEB) April 22, 2011
Children's creativity has always been limited by a box of colors chosen for them. If their school funds art studies, they may have some opportunity to mix paints and learn the color wheel. However, their exploration via creative play is always restricted by limitations in art supplies, and frankly, the mess that it makes. By using virtual paint, Color Mix for Kids allows for unlimited play and unlimited color selection.
In addition, Color Mix for Kids' incremental approach to color mixing provides children a more concrete learning experience than traditional finger painting. They can see that equal portions of blue and yellow do not make the same shade of green as two portions of blue and one portion of yellow. This valuable lesson in color theory comes easily through creative play. According to Eightfold Education founder, Justin Lewis, "Color theory is an important educational foundation in order for any early elementary student to develop a talent for art."
Color Mix for Kids provides a multi-touch enabled canvas to allow siblings or classmates to share and create together. This feature prevents the inevitable arguments that will arise when one child overrides another child's control of the app.
Designed by parents, Color Mix for Kids has a clean, simple drawing interface. More advanced functionality can be found in a separate menu where kids can select from animal-themed coloring pages, environmentally-themed connect-the-dots, colorful backgrounds and their own photos. Kids can also save their masterpieces to an in-app gallery, saving space in their parents' iPad Photo Gallery. Color Mix for Kids will also release seasonal updates to the coloring page options.
Color Mix for Kids features include:

Educational! A new way to learn the color wheel
Learn to mix colors through exploration and discovery
Kid-friendly interface – so easy a toddler can use it
Multi-touch painting (allows more than one child to share)
Lots of provided coloring pages and backgrounds to color on
Connect-The-Dots pages have environmental science lessons
Color pictures from your photo album
Save to local gallery, or to photo album
No advertisements
Device Requirements:
Compatible with iPad with iOS 4.3 or later.
Pricing and Availability:
Color Mix for Kids is $2.99 (USD) and available worldwide through the App Store in the Education category.
Purchase and Download:
http://itunes.apple.com/us/app/id432169773?mt=8&ls=1
Eightfold Education is a small home-based business whose goal is to make educational mobile apps for children. Its app creators are Justin and Jennifer Lewis. Jennifer holds a Master's in Computer Science and has been developing software for 11 years. Justin holds a Master's in Interactive Simulation and Training Systems.
justin(at)eightfoldeducation(dot)com
Company website: http://eightfoldeducation.com/
Facebook: http://www.facebook.com/EightfoldEducation
Twitter: http://www.twitter.com/EightfoldEdu
###