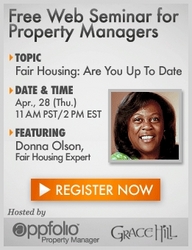 Goleta, CA (PRWEB) April 25, 2011
AppFolio, providers of web-based property management software, announces a free web seminar for property managers on the topic of Fair Housing. This webinar is scheduled for Thursday, April 28th at 11am PDT and is co-hosted by Grace Hill.
Housing discrimination continues to be an issue and keeping up with Fair Housing guidelines can be a challenge. Donna Olson (better known as Trainer Donna) is recognized as an expert on communication, diversity, harassment and fair housing issues. In honor of Fair Housing Month, Donna will be educating property managers on fair housing requirements and how to minimize risk.
How and why we are still dealing with Fair Housing issues.
Discrimination and recognizing how it can be a "perception".
Protected Classes – What property managers should know.
Ways to reduce liability.
ADA vs. Fair Housing - Know the difference.
This complimentary webinar is open to all residential property managers interested in the topic, register for the webinar here.
HOSTED BY: This educational event is hosted by Grace Hill, the leading provider of education and networking opportunities for the multifamily industry, and AppFolio, providers of web-based property management software designed for today's residential property manager. AppFolio is committed to providing the property management community with tools that help them run a better business. The AppFolio team hosts educational platforms such as PropertyManager.com and GreenPropertyManagement.com, as well complimentary seminars to provide property managers with valuable information on ways to run a more successful business.
SPEAKER: Donna Olson has received extensive training through performing hundreds of troubleshooting assignments for management companies throughout the country regarding fair housing issues. She has designed, implemented, and presented many programs for property managers. This is a great chance for apartment owners and managers learn from a fair housing expert in the property management industry.
ABOUT APPFOLIO
Headquartered in Santa Barbara, AppFolio was started by a team of technology leaders with proven experience creating software that businesses love to use. AppFolio creates complete, easy-to-use, web-based solutions for multiple vertical markets and the first AppFolio SaaS service was specifically created for residential property managers. With investors including Cisco Systems, BV Capital and the Investment Group of Santa Barbara, AppFolio's rapid growth is being fueled by very happy and loyal customers.
###