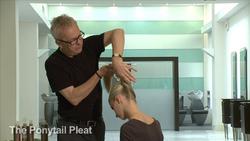 After many years of involvement I have seen first hand how the support provided by Self Unlimited can really make a positive difference to the quality of life for some of the most disadvantaged people in our society.
(PRWEB) April 23, 2011
Andrew Collinge is a hairdressing icon with an international reputation. His ability to dress long hair is recognised and respected by beauty editors, hairdressers and clients alike and it his passion for sharing knowledge that inspired the launch of the Two Minute Up-Do app.
http://www.andrewcollinge.com/the-2-minute-up-do-video-app
The Two Minute Up-Do app, which is free to download now, introduces four easy to follow step by step videos each lasting two minutes long. The videos showcase beautiful Andrew Collinge up-dos from twisted chignons to stylish pleats, all of which are secured in place with just one pin. The viewer will be able to rewind and pause the videos to master the techniques taught by the industry great.
The universal application is compatible with i-phone, i-touch and i-pad and also has the added benefit of providing the viewer with an interactive gallery of the Collinge family history of hairdressing, which is now over a century old. During this slideshow Andrew talks to the viewer about some of his favourite long hairstyles he has created over the years. An interactive Denman catalogue made up of stills, commentary and music featuring an extensive selection of individual brushes and styling tools is also included to help create the perfect up-do.
As well as learning four contemporary styles that are perfect for nights out or special occasions, the viewer will also be helping a great cause. Andrew Collinge is Chair of the Design For Life Appeal, where he aims to raise £2million to transform the lives of those with learning difficulties. Design for Life is part of Self Unlimited, a UK national charity.
Andrew commented 'After many years of involvement I have seen first hand how the support provided by Self Unlimited can really make a positive difference to the quality of life for some of the most disadvantaged people in our society. The app will help raise valuable funds to support these people now and in the future.'
# # #