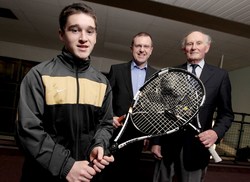 I was impressed by Aaron's passion for the game, even as a nine-year-old. He works hard, is very gritty and never gives up – qualities that will stand him in very good stead
(PRWeb UK) April 22, 2011
He first held a racket as a nine-year-old on courts in his home town of Donaghadee. Now 15-year-old Aaron Stubbs is one of the most promising tennis players in Ireland – and to mark his progress he has been served a winner's cheque of £400 in the Belfast Telegraph's Emo Sports Awards, sponsored by the leading home heating oil company in partnership with the Mary Peters Trust.
The Bangor Grammar School student's winning ways began in under-12 events and have continued at an impressive rate, often against boys in higher age groups.
Last year he was under-16 champion in the Irish Junior Open, as well as being an under-16 and under-18 winner in the Ulster Junior Open and Indoors championships.
"I'm delighted with the progress I've made," Aaron said. "It's hard to know what lies ahead, but I'd certainly like to play for Ireland one day in the Davis Cup."
Aaron's development has been helped by Ulster coaches Przemek Stec, Carlos Miranda and Nelson Boyle, and by Alex Watt of Bangor-based AGP tennis.
Alex said: "Aaron is a very special talent with a good all-round game. His speed around the court is incredible and we're getting results in improving his forehand. He's also very strong mentally."
The path of progress has pleased sponsor Pacific Rackets and also his first coach, Jonathan Rea of the Donaghadee club.
Jonathan said: "I was impressed by Aaron's passion for the game, even as a nine-year-old. He works hard, is very gritty and never gives up – qualities that will stand him in very good stead."

The Emo Sports Awards in partnership with the Mary Peters Trust are open to young sportsmen and women from the age of 12. You can nominate yourself or apply through a parent, coach, club or governing body. Each month's winner will get £400 and will be featured in the Belfast Telegraph.
Full details from governing bodies or on the trust website: http://www.marypeterstrust.org
###