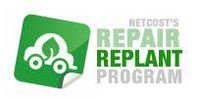 Netcost invites all its clients to participate to maximize the restorative impact on the environment.
Streamwood, IL (PRWEB) April 25, 2011
Nationwide claims administrator, Netcost Claim Services is leading the way in greening the auto glass industry, and making it easy for all their partners to participate.
Over the past year Netcost Claim Services in partnership with American Forests has planted thousands of trees on behalf of Netcost's participating clients.
The Repair & Replant™ program is offered exclusively by Netcost – who will donate one tree to American Forests' Releaf program for every windshield that is repaired through Netcost's participating clients – eliminating the need for an entire replacement of the windshield. Netcost clients can opt into the co-branded Repair & Replant™ program at no cost, using the logo on their websites or linking to the Repair & Replant™ website. Netcost will notify the vehicle's driver or the insured that a tree was planted on their behalf.
According to CEO Tim Szpila, "Our Repair & Replant™ go green initiative has proven to be extremely successful and has allowed all of our clients a no hassle way to help the environment. As an added benefit for those clients who have participated we have seen an increase of windshield repairs versus replacements which greatly effects overall program severity."
About American Forests:
American Forests is a world leader in planting trees for environmental restoration, a pioneer in the science and practice of urban forestry, and a primary communicator of the benefits of trees and forests. American Forests (americanforests.org) is the nation's oldest nonprofit citizens' conservation organization. Citizens concerned about the waste and abuse of the nation's forests founded American Forests in 1875. The organization is proud of its historic roots in the development of America's conservation movement and proud of the new approaches the organization has developed to help people improve the environment in the 21st Century.
About Netcost:
Netcost is a nationwide claims administrator servicing Insurance and Fleet clients' needs with a full menu of claim handling services, including windshield repair and replacement, Roadside Service and First Notice of Loss. Netcost has delivered superior service through the years while expanding the original automotive glass solution to a menu of complimenting claim services. The Netcost technical integration team offers state-of-the-art technology to support our network, including real-time claim tracking, instant online claim access, and the ability to integrate with any system and more.
Netcost invites all its clients to participate to maximize the restorative impact on the environment.
Visit the Netcost Repair & Replant™ program at (netcostservices.com/repairreplant)
###