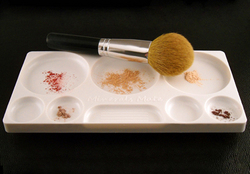 For applying minerals and other loose powders, the container lids are obvious but they're not practical or clean.
Atlanta, GA (PRWEB) April 24, 2011
Fans of mineral makeup who use the lids to their product jars to apply and mix that trusty mineral powder are likely transferring oil and bacteria to their face – and to the original makeup container.
Minerals Mate®, a new mixing and application palette for use with mineral makeup and other loose powders, provides a secondary surface for working with foundations, blushes and other treatments so users are not constantly dipping their brushes into their powder supply or container lid. In addition, oil from the face clings to the Minerals Mate surface. The result: the oil and other contaminates don't go back into the jar but rather stay where they can easily be cleaned away.
By cleaning the Minerals Mate with soap and water after every use, mineral makeup fans can have a hygienic makeup routine that helps reduce breakouts.
"For applying mineral and other loose powders, the container lids are obvious but they're not practical or clean," said Molly Fleming, who custom-designed the Minerals Mate palette as a handy, more hygienic alternative. "Most users of mineral makeup need another surface to mix, sample, blend or foil their minerals. Minerals Mate gives them this extra surface that's cleaner, too."
The white Minerals Mate palette has four small and three large wells to accommodate all brush sizes, from the smallest eyeliner tip to the largest kabuki brush. The artist palette washes with soap and water so that users can start with a clean palette every day. It has a thumb rest that doubles as a brush wash, and the palette's wells can be used for cleaning large brushes.
Available currently 14 online mineral makeup retailers, the Minerals Mate palette comes with a satin pouch for storing leftover minerals safely, and a spatula for mixing minerals, or scooping up minerals when too much of a good thing spills out.
For more information about Minerals Mate products, look for "Minerals Mate" online or e-mail Molly Fleming at info(at)mymineralsmate(dot)com.
###