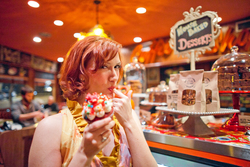 "My disease formed me into the creative, ambitious and irrepressible woman I am today, and it inspired the birth of this very site," says LaRue.
Los Angeles, CA (PRWEB) April 25, 2011
Some may say "an eye for an eye" but for Wedding Blogger Dana LaRue, it's quickly becoming "your Grandma Betty's warm apple fritters for an eye."
LaRue, founder of award-winning wedding blog The Broke Ass Bride, is prepared to take on her mounting medical bills head on as she launches Dishing for Dana, a fundraiser in which fellow Bloggers and readers are encouraged to share their down home comfort foods in exchange for a donation to LaRue's debt.
LaRue, who has lived with chronic autoimmune disease for the majority of the adult life and covers her own health insurance as a small business owner, is now faced with her 12th surgery in 9 years. The need then became immediate to find a creative way to offset the additional debt that will accrue on top of pre-existing medical bills.
"Receiving without giving just isn't my style. Dishing for Dana gives me the opportunity to showcase bloggers' favorite comfort recipes in exchange for a donation," explains LaRue, who initially got her own blogging start when she found herself engaged and on a tight budget.
LaRue's goal is to raise a minimum of $22,000 with $13,000 allocated to current medical bills and $7,000 to cover health insurance premiums for the remainder of 2011. Additionally, LaRue hopes to donate $2,000 to the American Autoimmune Related Disease Association.
"My disease formed me into the creative, ambitious and irrepressible woman I am today, and it inspired the birth of this very site," says LaRue. "While no one can yet cure my disease, the idea that this site and its community could rally up to ease my condition's painful and limiting financial side effects gives me hope beyond expression."
Since its launch earlier this month, the wedding industry has reached out in full force- from featured blogs and financial contributions to wedding professionals offering discounts to brides who donate. The Dishing for Dana campaign will end with a week long auction of fabulous and fun prizes, including a 2012 wedding photography package courtesy of Picotte Photography.
"I'm overwhelmed by the outpouring of support," says LaRue, whose fundraiser ends on June 1. "I didn't expect to feel like this- it truly is life changing."
For more information about Dishing for Dana, please visit http://www.thebrokeassbride.com/2011/04/dishing-for-dana-a-broke-ass-bride-fundraiser/
About The Broke-Ass Bride
The Broke-Ass Bride Blog is a sassy and creative source for inspiration on a budget. Dana LaRue offers a savvy approach to weddings and money, delivering entertaining and informative outside-the-box planning inspiration, while teaching readers of any budget that its not how much you spend, it's how you spend it. Regularly featured in national publications, LaRue has received numerous awards and was singled out by Google as a Blog to note. LaRue was recently named one of the top 10 social media influencers in the wedding industry by Wedbiz Journal.
For more information, visit http://www.thebrokeassbride.com. Dana can be found tweeting her wedding savvy at http://www.twitter.com/brokeassbride.
###