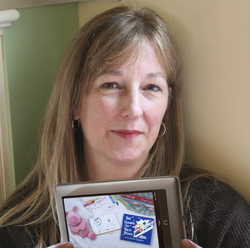 I am so proud of what Loud Crow and Moo Media have done together to re-envision The Going to Bed Book for the digital age.
New York, NY (PRWEB) April 26, 2011
On Monday, May 2, renowned writer and illustrator Sandra Boynton will become the world's first author to sign an eBook app for the general public. This historic signing will take place at 7:00 PM at Barnes & Noble's Upper East Side store, located at 150 E 86th Street at Lexington Avenue, in New York City.
"This is a thoroughly incredible opportunity that Barnes & Noble is providing," says Boynton. "I am so proud of what Loud Crow and Moo Media have done together to re-envision The Going to Bed Book for the digital age. When it was finished, we all wanted so much to present our new book app publicly. So Loud Crow and Barnes & Noble came up with the app-signing concept, and it's such a cool idea. My only disappointment is that I was hoping some Esteemed Couture House was going to try to get me to wear their latest Haute Flannel Pajamas for the event, but so far, no luck."
"We're definitely excited to be able to make history with this first-ever eBook app signing with Sandra," says Calvin Wang, Founder and President of Loud Crow Interactive. "It's been an amazing collaboration between Loud Crow and Boynton Moo Media and for us to share this watershed moment in book publishing makes this partnership even more extraordinary."
For this event, children and adults alike are encouraged to come to the store in their pajamas. Boynton will first present a Storytime reading from the traditional version of her classic best-selling board book, The Going to Bed Book, published in 1982 by Simon & Schuster. (To date, there are over 5 million copies of this book in print.) She will then, using Barnes & Noble's NOOK Color eReader tablet, demonstrate the new app version of her book, with a screen projection behind her so that the audience will be able to easily watch her demonstration.
Joining Boynton in her Storytime presentation will be famed British Invasion rocker Billy J. Kramer, the narrator of The Going to Bed Book app. Also performing will be Boynton's long-time songwriting and music producing partner, pianist/composer Michael Ford. There will also be on hand an energetic "Moo Brigade," a team of ten college students, each with a Nook Color tablet, ready to offer children individually the opportunity to try out The Going to Bed Book app themselves.
Following the Storytime, and using a feature created for this event by her award-winning Vancouver-based digital publisher, Loud Crow Interactive, Boynton will digitally sign and personalize their debut collaboration, on customers' own NOOK Color eReader tablets.
In January of this year, under her new brand, Boynton Moo Media, Boynton and Ford entered into partnership with Loud Crow Interactive (http://www.loudcrow.com) to jointly create interactive digital versions of her well-known books and award-winning music, and also to eventually produce entirely new Boynton content. Since March 4, they have together released two Boynton Moo Media eBook apps–both of them already digital bestsellers–and they expect to have another six Moo Media titles out by the end of the year.
Wendy Paige Bronfin, Director of Product Management for Barnes & Noble Digital Products, is welcoming all members of the press and publishing professionals to the store's Event Room at 6:30 PM, one half-hour before the open public event, for a press conference, which will include a demonstration of the new book-signing feature on the NOOK Color. Sandra Boynton and Calvin Wang, President and Founder of Loud Crow Interactive, will also be there, and happy to answer any questions.
About Sandra Boynton
Sandra Boynton is a popular American cartoonist, children's author, songwriter and director. Since 1974, Boynton has written and illustrated over fifty children's books and seven general audience books, including four New York Times bestsellers. More than 30 million of her books have been sold–"mostly to friends and family," she says. With pianist/composer Michael Ford, she has also written and produced four albums of renegade children's music. Three of their albums have been certified Gold, and Philadelphia Chickens, nominated for a Grammy, has just reached Platinum.
About Loud Crow Interactive Inc.
Loud Crow Interactive Inc. is an award-winning Canadian digital book publisher based in Vancouver, British Columbia, founded by a team of interactive entertainment veterans. The company's PopOut! and Boynton Moo Media series of books have garnered numerous awards and honors. The team's ongoing mission is to create the highest-quality interactive reading experiences possible on digital devices.
About Billy J. Kramer
Billy J. Kramer is one of the Liverpool-based British Invasion singers, managed by Brian Epstein and produced by George Martin, who cheerfully revolutionized pop music in the 1960s. Platinum hits include Bad to Me (written for him by Lennon/McCartney) and Little Children.
For additional information, please contact Kim Hicks at kimchicks(at)gmail(dot)com, (917) 374-3480 or Beth Wareham at beth(at)loudcrow(dot)com, (917) 626-1153.
# # #