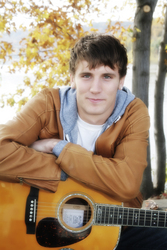 I have never in 30 years of broadcasting stepped out on a limb to help a local artist! But I have decided to present a few of Willy's CD's to a couple of industry executives in town next week for a concert. Willy is that good! (Larry L. LeBlanc)
Saint Peter, MN (PRWEB) April 26, 2011
Every year seniors at Saint Peter High School in southern Minnesota are required to do a senior project that does something good for the community. For years, Willy Pelton's friends and family had been asking him to record his original music to a CD. When it came time for his senior project, Willy's dad, Bill Pelton, suggested that he make a CD of his music and donate some of the profits to a charity of his choice. Willy then learned that the school music department was in need of a new piano but there weren't funds in the budget for one. Since music was his favorite class and Mr. Hermanson, the music teacher, was one of his favorite teachers, Willy decided to finally record his CD and donate some of the proceeds to buying the school a new piano. He didn't anticipate his music would be so successful.
Larry L. LeBlanc, Program Director for Three Eagles Communications- and host of the Lar Dawg Show on KYSM-FM, COUNTRY 103.5 weekdays from 2 to 7 Said, "I would definitely like to include Willy in a couple of our station events in the coming months. I have never in 30 years of broadcasting stepped out on a limb to help a local artist! But I have decided to present a few of Willy's CD's to a couple of industry executives in town next week for a concert. Willy is that good! There is something about this kid. What a joy he is to be around."
"Willy has written some of the best original commercial material I have heard in a long time. The songs are not just thrown together. They are very well thought out, and all of them have very good and appealing commercial hooks," said Jason Anderson who helped out on Bass for the song "I am what I am." Jason, who has played with numerous bands and on many CD projects, recounts working with Willy. "I remember sitting at home listening to the initial guitar and vocal recording for "I am what I am" and trying to learn it. I said to myself, 'Wow this song is not easy.' There were many complex chord progressions and different changes in the song. But it all flowed together very nicely. I only wish I could have helped out more. The songs 'Confidence' and 'Feeling alright' that Willy has written really rock. I wish I would have had time to work on those, but Willy gets the bragging rights for putting those together all by himself."
"I remember when Willy presented his first song to us at the age of 14," said Willy's father, Bill Pelton. "My wife and I just looked at each other and said, 'We have to get him to record that.' Then he started cranking out song after song. Each song had its own unique hook and sound to it. I have heard a lot of music over the years and have always been able to pick out the hits. Willy has quite a few hits on this CD if they can just be heard." Mr. Pelton, a musician himself with deep musical roots added, "My Grandmother Cora was a ground breaker in music back in the early 1900s. She was the leader of an Orchestra that was all males except for her at the age of 18, which was unheard of back then. It was in leading that band that my father, Howard Pelton, was conceived with concert violinist Ross Pelton. She once told me the toughest job she ever had was playing piano for the silent movies in the front of the theater. She was extremely talented, so you can definitely see that music runs in the family." Mr. Pelton added jokingly, "But thank God Willy got my talent and my wife's looks. The kid definitely has the 'It Factor' or the 'X Factor' as a new TV series by Simon Cowell is being labeled. Everyone loves the kid, and he lights up any room he walks into. He has what it takes to be a star in the music industry."
After hearing the quality of the songs Willy was producing, Mr. Pelton, a successful internet pioneer, decided to set up a home-based recording studio for Willy to get his initial music recorded. He then contacted long-time friend and recording industry veteran Scot Combs about helping with production. After hearing some of the initial recordings, Scot said, "I would love to be involved. This is great music, but I think my son Ian would be much more in tune with this type of music. He has produced many bands and done a lot of song writing himself. He has a great ear and has done some work for some Nashville recording studios."
"When I first heard the songs, my initial thought was toward the engineering. I thought, 'these guys have done some great work recording the initial songs, but what they really need help with is the mixing and mastering'" said Ian Combs, who did the engineering, mastering, and some lead guitar for the CD. "I love the songs on this CD. They cross over into multiple music categories and there is something for everyone. The music on the CD has great commercial appeal unlike anything I have heard in a long time. If Willy doesn't become a star in the music industry he definitely has a future as a song writer, but there is something about Willy, I think he has what it takes."
Willy Pelton's music is now available for sale on iTunes and through his website http://www.willypelton.com. "The feedback I am getting and the response we are getting from sales is very encouraging, and I hope I may be able to buy that piano for the school," said Willy Pelton. Of course if Baldwin Piano wanted to jump in and make a donation that wouldn't hurt either," Willy Joked. "But seriously I am very proud of the work that we have done here, and I love singing the songs live. It's really a great feeling seeing people getting into my music and signing along with it."
What's next for Willy? "I have started on another CD of songs as a follow up to this CD." Willy said, "I have, I don't know, maybe a couple of hundred songs that are in various stages of writing to choose from. I have to decide what will sell and what won't. I also have many offers that are coming in to perform all over the place, but I still have to finish high school and I have some college planning to do."
If you would like to help with Willy Pelton's Senior Project you may buy his CD http://www.willypelton.com or ITunes. You may also view videos of Willy on the TV news and Watch Willy performing some of his songs on his website. http://www.willypelton.com
# # #