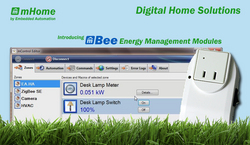 The mBee Energy Management Modules make it easy to view, in real-time, how much energy is being used in parts of your house, say, within a home theater area or a kitchen – identifying the energy footprint of individual appliances
Surrey, BC (PRWEB) April 27, 2011
Today, on Earth Day 2011, Embedded Automation introduced the mBee Energy Management Modules. mBee Energy Management Modules make it easy for home owners to see the real-time energy usage at any electrical outlet.
mBee Energy Management Modules integrate with Embedded Automation's mControl software, allowing home owners to see real-time energy usage, and to take action to reduce energy usage using mControl automation features. Select mBee Energy Management Modules also include the ability to remotely switch attached loads. Support for mBee Energy Management Modules is available for existing mControl v2.1 customers, through a no-charge version upgrade, and will be fully integrated into mControl v3, currently in Beta.
"The mBee Energy Management Modules reaffirm our strategy of providing easy-to-use, off-the-shelf consumer solutions that are fully supported within our popular mControl software. As a practical example, these modules make it simple to view how much energy is being used in parts of your house, say, within a home theater area or a kitchen – identifying the energy footprint of individual appliances," said Ted Singh, Business Development Manager of Embedded Automation. "As a continuation of this strategy, we plan on expanding support and providing tools to allow home owners to tools to view historical usage information and improve their home's energy efficiency."
"The mBee Energy Modules can be used as a supplementary solution to our existing smart grid technology – allowing utilities to monitor not only whole home energy usage, but also at a granular level within the home," said JB Golee, President of Embedded Automation. "We see a real integration potential between mBee Energy Management products and the smart grid investment for our Energy partners."
mBee Energy Management Modules are available in North America from the Embedded Automation web store and authorized mHome dealers. Introductory pricing is available for pre-orders for May 2011 delivery. For purchasing information, please visit: Embedded Automation's Energy Management Solutions.
Embedded Automation is a member of the ZigBee Alliance.
About Embedded Automation Founded in 1998, Embedded Automation designs, manufactures, and markets solutions for "Digital Home" under the mHome product family. mHome products are available from Embedded Automation and through the mHome Authorized Dealer Network.
Contact Information:
http://www.EmbeddedAutomation.com
info(at)embeddedautomation(dot)com
(604) 596-4999
###