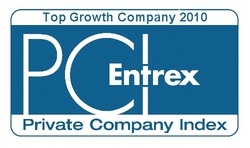 Charlotte, NC (PRWEB) April 25, 2011
Both awards are based on sales data and period-to-period growth in the sector of private companies with $250 million or less in annual revenue. This data is compiled by the Entrex Private Company Index, a benchmarking index that measures the performance of private companies in North America.
NouvEON posted an annual revenue growth rate of 81%, far outpacing the average of 37% growth posted by the entire Top Ten Growth Companies. NouvEON also received the distinction of being a Top Ten Growth Company for all four quarters of 2010 - posting growth of 57% in Q1, 87% in Q2, 106% in Q3, and 75% in Q4.
"NouvEON is consistently ranked among the top growing PCI firms in any industry sector," said Stephen H. Watkins, CEO of Entrex Private Company Index. "The display of dogged year-over-year, and quarter-over- quarter, revenue growth we've seen makes NouvEON an icon in the world of private entrepreneurial business."
T.J. Eberle, President & CEO of NouvEON, was pleased with organization's continued growth. Eberle attributed this success to the hard work and determination of NouvEON's employee owners. "This award is truly a testament to the high quality team we have in place and all the hard work we do every day," Eberle said. "We are witnessing the value we are creating for our clients and, in turn, that value creation serves as the foundation of our growth." Eberle expects continued historic growth as NouvEON establishes itself in additional industries and new geographic locations.
NouvEON is very optimistic about its continued high growth in 2011. Eberle expects a similar dramatic revenue increase this year and expects to end 2011 with over 120 billable consultants. "One of the phrases we use internally," says Eberle, "is that 'Together, we are making great things happen."
###