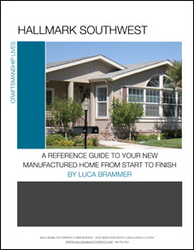 "I am very happy to offer the public...a well rounded, easy to read reference manual for people considering a manufactured home"
Loma Linda, CA (PRWEB) April 27, 2011
The manufactured home industry provides consumers with high quality, energy efficient living options. Consumers of manufactured homes, however, are often unaware of the vast differences in standard options and features between various builders of manufactured homes as well as the process of completing a manufactured home project in the shortest amount of time possible. A Reference Guide to Your New Manufactured Home from Start to Finish was written with the consumer in mind. Unlike many other guides about manufactured home buying and installation, this guide is interactive, providing hyperlinks to a wealth of different resources online while educating prospective home buyers about the numerous steps in the process of completing their manufactured home both on time and cost effectively.
The free guide covers key terms and phrases every buyer should be aware of, an executive summary of the manufactured home installation process, checklists to compare builders of manufactured homes when visiting a retailer or a manufactured home builder as well as critical information about tests, permits, building codes and energy efficiency options.
"I am very happy to offer the public what I thought was lacking in our industry, namely, a well rounded, easy to read reference manual for people considering a manufactured home" said Luca Brammer, Director of Business Development for Hallmark-Southwest Corporation. "I see the free reference guide as a critical aspect of our consumer oriented and online goals. I want Hallmark-Southwest to be known as a company that provides a wealth of valuable information to the public about their manufactured home options and energy efficient, sustainable living. This guide will be a tremendous source of help for consumers as the buying process in the manufactured home industry is commonly misunderstood. Our goal in the guide is to make the buying process as easy to understand and accessible as possible. We hope the public appreciates the new guide and we welcome feedback from readers."
Download our free manufactured home guide today!
Hallmark-Southwest Corporation: Craftsmanship Lives
About Hallmark-Southwest Corporation
Hallmark-Southwest Corporation is an employee owned company started in 1976 by craftsmen in the home building industry. Hallmark-Southwest offers a wide range of manufactured home models built with both quality of construction and energy efficiency in mind. The Hallmark-Southwest Corporation lives by the motto "Craftsmanship Lives."
For more information, Hallmark-Southwest Corporation can be reached at +1-909-796-2561 and at http://www.hallmarksouthwest.com.
Post Comment: Trackback URL: http://www.hallmarksouthwest.com
###