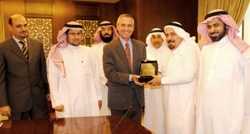 "The goal of MOHE is to transform the Kingdom of Saudi Arabia into a 'Knowledge Society'."
Spicewood, TX (PRWEB) April 27, 2011
Higher education is changing in Saudi Arabia. One significant force for change is the Ministry of Higher Education's commitment to innovation in managing and operating its campuses. As a testament to this, it's newly constructed Administrative Headquarters has become the first building in the Kingdom of Saudi Arabia to become Smart Building Certified.
MOHE has been awarded a Silver Certification from the Smart Buildings Institute. The Ministry is committed to providing world-class facilities that promote the health and well-being of its occupants, decrease its operational costs across its entire portfolio, increase its ability to rapidly adapt to new applications and processes, and reduce its environmental impact. The building will serve over a thousand occupants on 12 floors.
"The use of multi-system integration, open protocols and open implementation is the basis of a smart building and of achieving a Smart Building Certification. The goal of MOHE is to transform the Kingdom of Saudi Arabia into a 'Knowledge Society'. This is the first step, the first building in this new direction," states Jim Sinopoli of The Smart Buildings Institute.
The Headquarters building will establish the baseline standard for all educational buildings in its portfolio. The Ministry has implemented several strategies and solutions to achieve its Smart Building certification and become a leader and advocate for innovative building throughout the region.
MOHE Administrative Headquarters has adopted many innovative facility operations strategies, including;

Open protocols and standards to enable communication between devices from different manufacturers
Single and remote operation of lighting systems
Real-time system error reporting
Use of digital signage as a notification system for events, fire alarms, weather and news
Prayer applications delivered over IPTV which reminds users of the next prayer time
Decreased plug load with 80% PoE powered devices
Utilization systems for energy and facility management
Monitoring of contaminants for health and safety
Biometric security
Building, space, and vertical access by occupant profile for better security
Increase of occupant comfort while decreasing energy consumption through the use of temperature and lighting sensors
Occupant control of their temperature and lighting needs via a touch-screen located on desk phones
A facility management system that validates a sequence of operations among integrated systems and ensures reliable building operations.
Real-time delivery of building alerts via mobile devices
"Our real estate solutions strategy is transformative and enables students, faculty and staff to adopt different ways to communicate, access information and deliver campus services. Our approach to smarter building utilization will boost user productivity, occupant comfort and safety, and increase the building performance and reliability", states MOHE Deputy Minister Dr. Ali bin Suleiman Al-Attiyah.
The Administrative Headquarters building will become the first campus building to support these initiatives as well as become the "hub" for managing and facilitating the operations of future smart campuses throughout the Kingdom.
About The Smart Buildings Institute
The Smart Building Institute (SBI) is a non-profit corporation that facilitates the growth and education of smarter building and building operations through evaluation and certification of individual buildings. SBI establishes an ongoing and updated series of conditions that minimize the long-term costs of facility ownership to owners, occupants and the environment through innovative systems, solutions, and processes of operation. SBI is committed to change and innovation in the way buildings are designed and operated.
Contact:
Gina Elliott, MBA
Smart Buildings, LLC
Phone: 619.819.5589
http://www.smartbuildingsinstitute.org
About The Ministry of Higher Education
The Kingdom of Saudi Arabia Ministry of Higher Education is responsible for the execution of the government policy for university education. The Ministry operates twenty one government universities, six private universities and eighteen private colleges, offering a variety of academic and non-academic disciplines. The Ministry of Higher Education is adopting contemporary trends in scientific research and strategic planning.
Contact:
Dr. Abdulrahman Al Motrif,
Ministry of Higher Education
Administrative Headquarters
Riyadh, Kingdom of Saudi Arabia
###