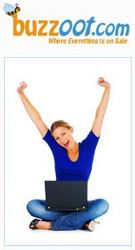 We at Buzzoot.com are thrilled to put a smile on bargain shoppers faces
(PRWEB) April 27, 2011
Buzzoot.com announces the official launch of its bargain shopping cybermall on May 2, 2011. Designed to save shoppers time and money, this brand new clearance and sales directory will reduce the hassles of dealing with hit or miss search engine queries or sites biased towards pushing their own products to the exclusion of others. Bargain shoppers can find a large variety of consumer products on sale within such diverse categories as apparel, home furnishings, office supplies, food products and others. Buzzoot.com has no allegiance to any brand or store, allowing shoppers a greater freedom of choice and the ability to compare products and prices more objectively.
The information assembled in Buzzoot.com is human edited and organized. Editors take a lot of care to provide this information as accurately and as objectively as possible and continuously monitor it to ascertain that it is fresh and up-to-date. The directory is organized in logical, easily navigable categories and can be quickly accessed through a powerful search facility. Wheels are already in motion to significantly increase the over 570 clearance sales presently listed on the Website. Additional services for shoppers are in the developmental stages and are projected to be brought online before the fall of 2011.
There are no strings attached with the use of Buzzoot.com. It is completely free and does not require any form of registration, subscription or submission of personal information.
###