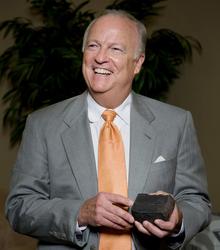 We are thrilled to have this opportunity to benefit from Dan Jarvie's significant unconventional experience and his unmatched expertise in global shale geochemistry.
(PRWEB) April 27, 2011
Emerging Australian-based global shale gas pioneer Tamboran Resources Pty Ltd ("Tamboran") is very pleased to announce that Mr. Dan Jarvie has joined Tamboran's Technical Advisory Board ("TAB") effective April 2011.
Dan is President of Worldwide Geochemistry, LLC, which provides interpretive services to the petroleum industry. Dan has studied and been involved in the evaluation of conventional petroleum systems around the world, but is most noted for his ongoing work in unconventional resource plays, particularly the Barnett Shale in the Fort Worth Basin, Texas since the late 1980's. The Barnett Shale was the first significant commercial thermogenic shale gas discovery in the United States.
Prior to founding Worldwide Geochemistry, Dan founded and was President of Humble Instruments and Humble Geochemical Services in Humble, Texas from 1987 until the 2007 sale of both companies to Weatherford International.
Dan Jarvie has received many awards and commendations for his exceptional service to the petroleum industry. He was recently awarded "Hart Energy's Most Influential People for the Petroleum Industry in the Next Decade, 2010".
Tamboran Resources CEO, Richard Moorman, commented: "We are thrilled to have this opportunity to benefit from Dan Jarvie's significant unconventional experience and his unmatched expertise in global geochemistry. I have thoroughly enjoyed working with Dan on several projects and industry technical events over the past six years. Dan Jarvie has already played a pivotal role in the success of several companies in unconventional plays, and we look forward to a great relationship with Dan as we move forward with our plans to evaluate and drill many unconventional oil and gas basins around the world over the coming years."
As a member of the TAB, Dan will work closely with Tamboran co-founder and Managing Director, Dr. David Falvey. The TAB will advise Tamboran on all technical aspects of Tamboran's exploration and development plans and programs as well as provide ongoing technical oversight to ensure that all programs implemented by management are conducted to the highest standards of exploration management, good oilfield practices, and environmental and regulatory compliance in all basins.
About Tamboran
Tamboran is a privately held Australian shale gas explorer that has acquired positions in Australia and overseas. Tamboran's areas each have large known volumes of shales with characteristics that are analogous to the successful shale gas basins being developed in the US and Canada.
Tamboran's approach is to directly engage with technical professionals with significant experience in U.S. shale projects to utilise the most advanced US technologies in the exploration and development of shale gas, thereby reducing investment risk while accelerating exploration and development of emerging unconventional oil and gas plays around the world.
Tamboran holds areas or applications covering approximately 31 million acres in:

Beetaloo/McArthur Basin, NT
Ngalia Basin, NT
Pedirka Basin, NT
Lough-Allen Basin, Republic of Ireland and Northern Ireland
Gemsbok Basin, Botswana
Further prospective areas with unconventional resource potential are under consideration by Tamboran.
For further information, please visit http://www.tamboran.com or contact:
Richard Moorman +1 713 458 8835
Dr. David Falvey +61 406 381 706
Patrick (Pat) J D Elliott +64 21 618 600
Shale ("Unconventional") Gas Background
Production of natural gas from shales was previously considered too expensive compared to conventional reservoirs due to a lack of permeability and porosity (i.e they are "tight"). Over the past several years, there have been significant advances in drilling and completions technologies (especially in horizontal drilling and multi-stage hydraulic fracturing techniques) that have resulted in the discovery and development of substantial natural gas reserves in many basins in the US and Canada.
The shale gas share of daily US natural gas production has increased from below 5% in 2005 to over 20% today. Shale gas is projected by the US Energy Information Agency to rise to 45% of daily US natural gas production over the next 20 years.
Most importantly, shale gas projects facilitate significant scales of operations as well as many opportunities for continuous technical improvement, with the net effect that total finding and development capital costs have fallen dramatically in the US to a very low range of approximately US$0.60 to $0.90/GJ for experienced operators. This is not yet matched elsewhere in the world.
Additional Background on Dan Jarvie
Dan is also very active in several industry associations. He recently chaired the Hedberg Research Conference on Shale Resource Systems: "Critical Assessment of Shale Resource Plays", an exclusive and unique cutting-edge research conference with the joint participation of four technical societies (AAPG/SPE/SEG/SPWLA) designed to bring together the best technical experts in global unconventional plays.
Dan Jarvie is an adjunct professor at Texas Christian University (TCU) and a member of the Board of Advisors to the Energy Institute at TCU. He also is an affiliate professor at the University of Oklahoma. These affiliations include specific research projects with professors and students at these institutions.
Mr. Jarvie is also a visiting scientist at the Institut Francais du Petrole (IFP) in Rueil-Malmaison, France. The primary focus of the IFP research is a compositional model of hydrocarbon generation from shales including late gas generation and carbon isotopic modeling as applicable to shales. Dr. Francoise Behar of IFP is the director of this research. He is also active in GASH directed by GFZ, Potsdam, Germany, in their research of shale gas systems.
Dan earned a B.S. from the University of Notre Dame and was mentored in geochemistry by Wallace Dow and Don Baker of Rice University.
Dan has also extensively published and co-authored papers on organic shale geochemistry for basins around the world, and maintains a strong presence in ongoing research in several basins as well.
For more information about Dan Jarvie and Worldwide Geochemistry, please visit http://www.wwgeochem.com/index.html
###