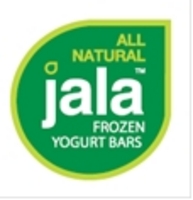 "Jala™ refers to the health benefits of the active probiotics that are in the products themselves,"
New York, NY (PRWEB) April 27, 2011
Skinny Cow™ creators Marc Wexler and Sam Pugliese, took the market by storm in 1994 with the introduction of a scrumptious ice cream snack that offered dessert lovers something they would not only enjoy, but also feel good about. Indulgence without the guilt. Now imagine, the good just got better with the latest tasty product line from Be Active Brands™, Jala Bars™, the all-natural frozen Yogurt Bars and Sandwiches!
Each delicious Jala™ bar is just 110 calories and rich in antioxidants and probiotics - which may help to promote healthy digestion and boost the immune system. Jala™ Bars are a good source of calcium, with approximately 10% of the recommended daily allowance for calcium and about one third of the recommended daily allowances of Vitamins A, C and E. Jala™ Yogurt Bars come in three delicious flavors, Vanilla Blueberry Swirl, Vanilla Pomegranate Swirl, and Lemon Sweet Tea Swirl. Jala™ Chocolate Fudge Bars are one of the first ice cream products in the world to feature the potential health benefits of probiotics.
Jala™ Yogurt Sandwiches are also a good source of calcium, available in 2 delicious and low fat flavors - Vanilla Chocolate Combination and Low Fat Vanilla Sandwiches. Each Jala™ sandwich is only 140 calories and contains 2.5 grams of fat.
Jala™ Bars and Sandwiches are the only all-natural yogurt and ice cream products that contain active probiotic cultures. It's no wonder people are quickly discovering the joy of Jala™.
"It's an exciting time for us at Be Active Brands™," states companies co-founder Sam Pugliese, "We have always believed in putting out products that not only taste good, but are good for you. Jala™ Bars were a direct result of this." Sam continued, "We saw a void in the marketplace for a healthy treat that contained essential vitamins, anti-oxidants and probiotics. We knew with our success and experience in developing a healthier ice cream, we could easily create the answer. And that answer is one delicious word, Jala™."
What is Jala? Besides a healthy frozen dessert, Jala refers to a traditional Sanskrit term for a form of cleansing practiced in traditional yoga. "Essentially, Jala™ refers to the health benefits of the active probiotics that are in the products themselves," quotes Marc Wexler, Be Active Brands™ second co-founder. "It also refers to how you feel after having the product itself… all the delicious indulgence without any of the guilt."
Starting this spring, more and more consumers will be experiencing the joy of Jala™ Bars as Be Active Brands™ rolls out their branded Jala™ truck fully loaded with free product samples and Jala™ gifts.
For those of you that can't wait for the Jala™ Truck to visit their town, Jala™ Bars and Jala™ Yogurt Sandwiches are already available many retailers throughout New England and southern states such as Stop and Shop, Publix, Shop Rite, C Town Markets, D'Agustino's Supermarkets, HEB Stores, Giant Foods, Whole Foods, and more. For a complete list of retailers or for more information about Jala™ Bars and Jala™ Yogurt Sandwiches visit: http://www.jalabars.com .
About Be Active Brands™: Be Active Brands™, Inc. manufactures frozen yogurt and fudge bars. It offers ice creams and bars in various flavors, such as vanilla pomegranate swirl, lemon green sweet tea swirl, vanilla blueberry swirl, and chocolate fudge. The company provides its products through retail stores in the northeast regions of New York, New Jersey, Connecticut, Massachusetts, Rhode Island, Maine, Pennsylvania, Ohio, Florida, and more. Founded by the creators of Skinny Cow™ Ice Cream products, Be Active Brands™ was incorporated in 2009 and is based in New York, New York. For more information visit: http://www.jalabars.com
###