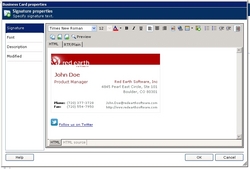 Boulder, CO (PRWEB) April 27, 2011
Red Earth Software, a leading email management software company, today announced the availability of Policy Patrol Signatures for Microsoft Outlook.
Policy Patrol Signatures allows companies to centrally manage their users' Outlook email signatures, ensuring that the necessary email disclaimer is added and that corporate email signatures are uniform and convey consistent and professional brand practices.
"Companies are moving to standardized email signatures for company branding purposes, as well as adding the required legal disclaimers to meet compliance requirements," said Mike Spykerman, CEO of Red Earth Software. "Outlook signatures are difficult to manage since they require configuration for each individual client and there is no way to manage these signatures from a centralized location. By deploying Policy Patrol Signatures, companies can now configure their user's Outlook signatures from one location ensuring a homogeneous corporate email 'look'."
Policy Patrol Signatures is easy to implement and is cost-effective for small and medium-sized businesses. IT administrators can easily control email message fonts, format pictures on the signature, add company legal disclaimers and footers and utilize different signatures for replies and forwards. Policy Patrol Signatures integrates with Microsoft Outlook 2003, 2007 and 2010 and Outlook Web Access Signatures.
"Companies are becoming increasingly aware of how their email signatures not only increase brand awareness but also help market their business. By including a professionally designed signature block with a company logo, the sender conveys a consistently branded professional image. Additionally, including social media links in email signatures acts as a catalyst for building followers on social media sites such as Twitter and Facebook," added Spykerman.
About Policy Patrol Signatures Policy Patrol Signatures works with Microsoft Outlook and Microsoft Outlook Web Access and allows companies to centrally manage their Outlook email signatures. By making use of Active Directory merge fields, companies can configure a global email signature that is automatically personalized for each sender. Policy Patrol Signatures recently achieved the "Works with Windows Server 2008 R2" certified status. A 30-day trial version is available from http://www.policypatrol.com.
About Red Earth Software
For email administrators in every industry, Red Earth Software is the email management software company that provides the most complete suite of email policy enforcement tools as a result of a long-term focus on solving mission critical business problems and anticipating evolving industry compliance and security issues. Policy Patrol is the most effective product for mitigating email risks and gives organizations the peace of mind that their email communications are protected and secure. As compliance regulations increase globally, Policy Patrol serves an ever-growing need that spans all vertical industries such as financial services, healthcare, legal and government. Please visit http://www.policypatrol.com and follow Red Earth Software on Twitter: http://twitter.com/redearthsoft
###