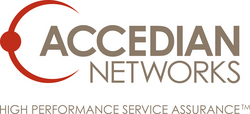 Montreal, QC (PRWEB) April 27, 2011
Accedian Networks™ announces that its EtherNID®, MetroNID® and MetroNODE 10GE™ service assurance demarcation devices have been granted "RUS Acceptance" by the Technical Standards Committee "A" (Telecommunications) Advanced Services Division of the United States Department of Agriculture, Rural Utilities Service (RUS). RUS Acceptance indicates that Accedian's products have met the strict requirements for field performance, compliance to standards and U.S. manufacturing as per the RUS Bulletin 344-3, "Buy American Requirement". The products will be included in the next update of the RUS List of Acceptable Materials.
The RUS offers funding and low-cost loans to service providers investing in networks serving rural communities. Any carrier deploying networking infrastructure projects in market areas that meet the un-served or under-served criteria can apply for this funding. The RUS Acceptance granted to Accedian means service providers and carriers will now be able to apply RUS funding to the purchase of Accedian's High Performance Service Assurance demarcation devices when used in networks serving these rural communities.
"We're very pleased to have achieved RUS Acceptance," said John Eberhart, V.P. Sales, North America. "This puts Accedian in an even stronger position to help telecommunications providers scale their networks and provide a ubiquitous and cost-effective service offering, regardless of the access technology needed to reach their rural customers."
About Accedian's EtherNID, MetroNID & MetroNODE 10GE
Designed for cellular hubs, aggregation nodes, and subscriber CPE, Accedian's award-winning 1 Gigabit EtherNID and MetroNID demarcation devices provide carrier-grade demarcation within metro and access networks. They segment, monitor and bridge diverse networks, delivering high-density OAM and performance monitoring visibility. Accedian's MetroNODE 10GE is an ultra low delay 10 Gigabit Ethernet (10GbE) demarcation and OAM aggregation node that was developed in response to the increasing demand for higher levels of accuracy and capacity in service performance monitoring equipment. The MetroNODE 10GE features the most accurate, lowest delay, highest capacity service assurance capabilities with wire-speed, high-density monitoring and advanced service creation capabilities seamlessly integrated into a reliable, compact and power-efficient package.
Accedian's product platform is based on the Company's wire-speed Fast-PAAs™ chip, a unique hardware-based engine that provides advanced performance testing and service creation capabilities in a low delay, carrier-grade, in-line hybrid test and network element for compact and cost-efficient deployment at the boundaries of the network. Unlike store-and-forward architectures, Fast-PAAs' proprietary silicon design provides wire-speed pass-through performance without adding delay or delay variation, while at the same time providing microsecond measurement resolution and real-time processing for every packet flowing through the unit.
About Accedian Networks
Founded in 2004, Accedian Networks™ is an industry-leading provider of High Performance Service Assurance™ solutions for Carrier Ethernet and IP networks. Today, the Company is the number one provider of performance assurance solutions for Carrier Ethernet backhaul networks in North America with an installed base of over 40,000 cell sites in 2010, and 70,000 platforms sold worldwide. The Company's hardware-based EtherNID®, MetroNID® and MetroNODE 10GE™ network interface devices (NIDs) also provide real-world service creation and high-speed, high-performance service assurance for Ethernet business, wholesale access, and carrier exchange services. These solutions—which far outperform more costly switches, routers and test equipment— enable service providers to establish end-to-end, standards-based OAM over converged multi-technology and multi-provider networks, with value-added services backed by assured SLAs. Accedian's platform is deployed by a global customer base that includes telecommunications providers, cable MSOs and mobile operators offering carrier-grade, packet-based applications. A privately held company, Accedian Networks is headquartered in Montreal, Canada, with regional offices in the U.S., Europe, Latin America and Asia. For additional information, please visit: http://www.accedian.com, or call 1-866-685-8181 or +1 (514) 331-6181.
# # #