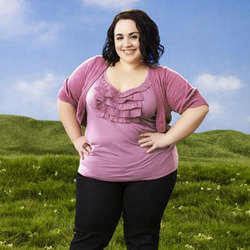 "Now another teen will have a chance to join us here at Camp Shane this coming summer and learn how to empower themselves to lose weight, get healthy, and start on their own road toward a happy future and a long life." -David Ettenberg, Director/Owner
Ferndale, NY (PRWEB) April 27, 2011
May 15, 2011 will mark the day Camp Shane, the longest-running weight-loss camp for children and teens in the country, announces the name of one lucky winner of the Nikki Blonsky Scholarship—which awards One Grand Prize winner a nine-week stay (room and board included) at Camp Shane in Ferndale, New York, for the summer 2011 session. The value of the prize is estimated at $8,400.
Blonsky, the star of the funny and provocative ABC Family TV show, Huge, which followed the lives of teens and staff at a weight-loss camp, visited Camp Shane last summer to announce the scholarship in her name. Blonsky urged the campers to get rid of their negative self-image and make use of their time at Camp Shane to learn about healthy eating, nutrition, exercise, and most-importantly, self acceptance--urging them to not judge their insides by other people's outsides. "I am proud of myself for being me, an individual," Blonsky said. "You should be proud of yourselves too." Her show, Huge, Blonsky said, was "just like the program here at Camp Shane, not only about losing weight, it's about finding out who you are are as person."
Entries close for the contest on May 1, 2011 and one winner will be chosen from hundreds received. Contestants are asked to submit a full-length photo and 250-word (or less) essay about why they want and deserve to win the scholarship to this world-renown weight loss camp. Complete rules, regulations and eligibility may be found at http://www.campshane.com.
The founders of Camp Shane, David Ettenberg and Ziporah Janowski, were thrilled with Blonsky's visit and are very excited about the scholarship. "Nikki is a great role model for our kids," said Ettenberg. "She's a successful, confident, and energetic young woman who learned to believe in herself and let nothing stand in her way. Now another teen will have a chance to join us here at Camp Shane this coming summer and learn how to empower themselves to lose weight, get healthy, and start on their own road toward a happy future and a long life."
For more information about entering the contest for the Nikki Blonsky Scholarship or to learn more about the program at Camp Shane, visit http://www.campshane.com or call (914) 271-4141.
###