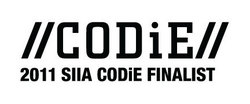 Denver, CO (PRWEB) April 27, 2011
EQUELLA, Pearson's award-winning digital repository that enables users to search, create and manage content online, is a finalist in the prestigious 2011 Software & Information Industry Association (SIIA) CODiE Awards. EQUELLA is recognized in the Business Content Management category.
Established in 1986, the CODiE Awards celebrate outstanding achievement across the software, digital information and education technology industries. Nominated products undergo an intensive review by subject matter experts, analysts, journalists and other respected authorities in education technology.
"Today's educational institutions must provide students and faculty with easy access to vast amounts of learning content. EQUELLA helps them face that challenge head on by providing a secure, easy-to-search environment to store and find these important resources," said Dan McFadyen, General Manager at Pearson for EQUELLA. "We are particularly honored to have our digital repository recognized by SIIA judges in the business content category, because it acknowledges that we are providing our customers with a robust enterprise solution for this mission-critical responsibility."
EQUELLA provides one central solution to meet an institution's learning, research, media and library content needs. Faculty, instructional designers and academic technologists can easily search in one location for all of their learning content - video, custom eBooks, presentations, lecture captures and more - all tagged by metadata such as learning outcomes, grade level and relevant keywords. EQUELLA places no restriction on the content type or file size, and all content is protected using the repository's permissions, digital rights management and copyright functionality. Faculty can also easily contribute their own materials or reuse content from shared repositories around the world.
For the second consecutive year, Pearson tops the list of companies with products named as CODiE finalists, with 15 innovative ed-tech and information management products earning recognition. All were developed based on the company's commitment to leveraging the power of technology and innovation to prepare today's students for success in college and careers. Pearson products earning finalist honors span the spectrum of today's breakthrough education and business technology products, such as learning Apps, educational games, technology-driven professional development and robust systems for managing information and data. Pearson's programs are focused on college- and career-readiness and preparing students to meet the Common Core State Standards.
In addition to EQUELLA, the company's products moving on to the next round of competition in this year's CODiE Awards are Calculus: Early Transcendentals (e-Book); enVisionMATH: Understanding Fractions; Grammar Jammers Primary Edition; Hospitality and Tourism Interactive; MyLiteratureLab; MyMathLab Algebra I and II; MyMathTest; MyReadingLab; myWorld Geography; PowerSchool 6.2; PowerTeacher 2.0; SuccessMaker; SuccessMaker Collaborate; and Words Their Way Online Workshop.
In the next step of the CODiE Award process, EQUELLA will be voted on by the entire SIIA membership, who determines the winner in each category. The CODiE Awards will be announced at the 2011 Ed Tech Industry Summit in San Francisco on May 23.
About Pearson
Pearson, the world's leading learning company, has global reach and market leading businesses in education, business and consumer publishing (NYSE: PSO).
For more information, press only:
Lisa Wolfe, L. Wolfe Communications, 773-227-1049, lwolfe(at)lwolfe(dot)com
# # #