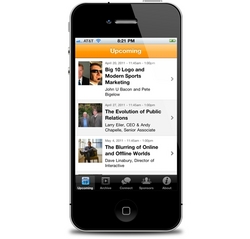 I feel this is the most valuable marketing app out there. The unique content from LA2M provides a wealth of information from leading marketers from Detroit and Ann Arbor Michigan - Derek Mehraban, Founder, LA2M
Ann Arbor, MI (PRWEB) April 28, 2011
LA2M marketing has just launched an iPhone App focused on furthering the marketing education mission of non-profit Lunch Ann Arbor Marketing. The new iPhone app was created by Wayne Eaker, and his web development company Zengenuity. The LA2M to Go iPhone app is available in the iTunes App Store, and gives anyone interested in marketing the ability to access LA2M resources, talks, and social media content from their iPhone.
Now anyone in the world can have access to the incredible digital marketing content, talks, podcasts, and videos from Lunch Ann Arbor Marketing. LA2M is a weekly lunch lecture series focused on all topics related to digital marketing, search engine optimization, marketing strategy, social media marketing, Internet marketing, web design, blogging, online video marketing and more.
"I feel this is the most valuable Marketing App out there. The original and unique content from LA2M provides a wealth of information from leading marketers from Detroit and Ann Arbor Michigan," said Derek Mehraban, LA2M Co-Founder and CEO of Ingenex Digital Marketing "LA2M is grateful to Zengenuity for building a world class iPhone App to help us continue our non-profit mission of marketing education."
The new LA2M app gives users the ability to watch past LA2M events on their iPhone and connect to the LA2M Twitter, Facebook and Linkedin feeds. Users can also read about upcoming LA2M events and learn about the organization itself.
In addition to the iPhone app, LA2M uses Twitter to interact during programs using the HashTag #LA2M. LA2M is also heavily involved in using Facebook and Linkedin to connect with its members. You can find LA2M online facebook.com/la2marketing and twitter.com/la2m our mobile site http://la2m.org/mobile.
About LA2M
LA2M is a 501c3 non-profit educational organization dedicated to informing the Ann Arbor community about marketing. While its primary focus is on new media, digital marketing, social media and web design, LA2M also provides members with insight on traditional marketing. LA2M meets every Wednesday at Conor O'Neill's Irish Pub in Ann Arbor from 12:00 PM - 1:00 PM. If you can't make it to Ann Arbor on Wednesdays you can watch online at la2m.org/live For more information on LA2M contact Tiffany Risner at (734) 272-4698.
About Zengenuity
Wayne Eaker, Director of Zengenuity, is the creator of the LA2M iPhone app. Zengenuity offers a complete range of web solutions including web design and development, CiviCRM installation and customization, search engine optimization (SEO), e-commerce and analytics, as well as Drupal training and support. The web development company is known for building engaging websites and effective online strategies. For more information about Zengenuity, visit: zengenuity.com or call (734)274-2848.
# # #