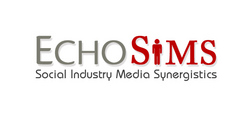 Someday, doubtless, the Social Industry Media Synergistics model will be the essential service that many thriving local businesses depend upon.
Kitchener, ON (PRWEB) April 28, 2011
(PRWEB) April 28, 2011 -- Echo Sims, the Canadian web solution company who coined the phrase "Social Industry Media Synergisitcs" is setting new standards for complete web services in the health and beauty industry. Providing what they call a unique, complete solution exclusively for local medical clinics, medi-spas and spas, Echo Sims is certainly turning some heads.
"Local health and beauty professionals, like other small businesses, are continually bombarded with endless sales and marketing suggestions – more recently being internet and social media opportunities", says Matt Martin, Co Founder and Director at Echo Sims. "Most of the ideas thrown at these professionals keep them frustrated and unsatisfied with the lack of results."
Martin confidently claims the major factor for limited success and wasted money on marketing tools lies in the lack of organization and time spent by these professionals in understanding and effectively using them.
"If we want a solution to this problem we have to stop shoving marketing tools into the faces of these business owners. We have to realize that they are simply and understandably too busy running their business operations or focusing on the development of their own key skills", claims Martin. "They have to because they are dealing with the health and safety of people. These professionals are too busy being good at what they do; it's almost impossible to become a good marketer at the same time. This is the reality they are facing."
If health and beauty professionals are too busy to effectively market their business to their target audience, is there any feasible solution? Martin believes there is.
"The only solution for these professionals is to have someone doing the marketing for them. That being said, it's unrealistic for them to pay a team of full-time employees for that sole purpose", states Martin. "But a team is essentially what they need. It's time to realize that the Internet has propelled us into a future where our customers expect fresh content, modern designs, and useful engagement. Dynamic is in, static is out."
For this to happen, Martin explains, a merge between industry knowledge, marketing gurus, and technical experts needs to take place. "People have been talking about the benefit of collaboration for quite some time now. Well, here's the perfect opportunity to start acting upon it. It no longer makes sense to pay one company for web design, another company for social media tools, and yet another for content or strategy if you are never going to make them function properly. Many businesses have a flashy website but it's content, terminology, and lack of call-to-action turns away customers. Some have a social media presence but the strategy for engagement is weak and almost pointless. There is obvious confusion stemming from a major lack of vision and technical-marketing harmony.
By focusing on one industry and serving one type of client, Martin and his team are combining these areas of expertise to offer a complete solution. The company aims to deliver a web presence that benefits both the business and the customers they serve. "Not only that, but because of the focus and efficiency within our model, we can transform these businesses at a cost similar to that of a part-time employee", says Martin. "Someday, doubtless, the Social Industry Media Synergistics model will be the essential service that many thriving local businesses depend upon."
Echo Sims helps health and beauty professionals understand the need for this unique solution by offering an exclusive, customized online presence report at no cost. Medical clinics, medi-spas and spas can fill out a quick form on the website and receive an in-depth evaluation of the effectiveness of their existing online presence. The report can be found at http://www.echosims.com/Free_Report.html
Learn more about Echo Sims by visiting http://www.echosims.com
About Echo Sims
Founded in 2010, Echo Sims offers complete Internet marketing and development services for professionals in the health and beauty industry. The company also aims to build relationships with distributers and manufacturers to better serve the needs of the industry through consumer insight and media creation.
Media Contact
Matt Martin
519-830-0100
http://www.echosims.com
###