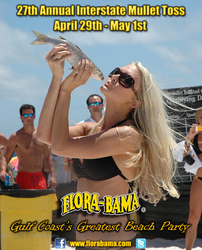 "They could come here on July 4th, Memorial Day or Labor Day, but they decided that something we created was going to be their weekend to have a party, and they come back every year''
Pensacola, FL (PRWEB) April 29, 2011
This spring celebration, known as the Gulf Coast's Greatest Beach Party, attracts party goers from all over the country to watch participants line up to throw dead mullet as far as possible from Florida across the sandy state line into Alabama. Celebrities will kick off the festivities, tossing the first fish at Noon on Friday, April 29, and the competition starts around noon both April 30 and May 1, with winners crowned each day. Registration to participate is $15 ($2 to charity) and includes a Mullet Toss T-Shirt. Plaques and bar tabs are presented to the top three tossers per category.
The contribution for each fish flung will go to the Alabama Sheriff's Boys Ranch, the Boys and Girls Club of Escambia County, and the local school education and prevention program from the Community Drug & Alcohol Council, Inc.
The Mullet Toss, along with the pristine white beaches, brings fun-loving people together from all backgrounds and cultures to the beautiful Gulf Coast for a weekend of great music, adult beverages, bikini contests and of course, nonstop mullet tossing action. "They could come here on July 4th, Memorial Day or Labor Day, but they decide that something we created was going to be their weekend to have a party, and they come back every year,'' said Flora-Bama co-owner Pat McClellan about the April 29th - May 1st competition on the Flora-Bama beach.
The current Mullet Toss record is held by Josh Serotum, who in 2004 tossed the mullet an amazing 189'8″ in his preliminary toss and 174′ 3″ in his final toss. While tossing techniques differ as much as the contestants themselves, the best approach seems to be folding the fish and pretending like you are trying to throw a hail mary pass to the end zone.
Music will be ongoing all weekend and food and drinks from both the Flora-Bama and its venders will be available throughout the complex.
The Interstate Mullet Toss has been written up in the Wall Street Journal and at least 100 other major newspapers around the country. The event was also featured in Sports Illustrated.
The Flora-Bama Lounge & Package is located on the Gulf of Mexico at the Florida/Alabama line. For further information call: 850-492-0611 or 251-980-5118 or visit us at http://www.florabama.com.
# # #